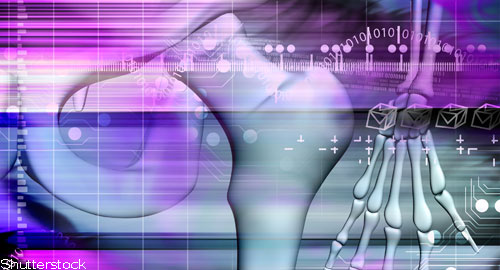 Some patients have a much greater risk of fracture than would be suggested by their measured bone mineral density. From this fact, physicians have concluded that these patients have impaired bone quality, an aspect of which is bone tissue mechanical performance. However, this mechanical performance can be difficult to measure. Often, investigators use bone structure or bone mass as surrogate measures of bone quality.
You Might Also Like
Also By This Author
Researchers have also noted that the gut microbiome can influence bone. In particular, previous studies have found that modifications of the microbiota can influence bone structure and bone mass. Although the mechanism behind this phenomenon is not well understood, the microbiome may influence organs that are distant from the gut through three main processes. At its most basic level, the microbiome can act within the gut to regulate nutrient absorption and the immune system, thereby affecting the organism as a whole. Its direct effects can extend beyond the gut, however, when bacterial products, such as lipopolysaccharide and flagellin, translocate across the epithelial barrier of the gut and travel through the bloodstream to distant organs. These bacterial products cause inflammation and can cause localized inflammation in vulnerable tissues outside of the gut.
ADVERTISEMENT
SCROLL TO CONTINUE
Jason D. Guss, a graduate student in biomedical engineering at Cornell University in Ithaca, N.Y., and colleagues examined the effects of the gut microbiome on bone. They reported the results of their analysis of changes to bone structure and bending strength on Feb. 20 in the Journal of Bone and Mineral Research.1 In their study, the researchers examined whole bone strength, cross-sectional geometry and tissue mineral density. They studied both wild type and toll-like receptor 5 deficient (TLR5KO) mice. They chose the TLR5KO mice because these mice are known to have an altered gut microbiome.
The team disrupted the gut microbiota of both strains of mice, which were 4 to 16 weeks old, with chronic antibiotic treatment. They found that the antibiotic treatment altered the gut microbiota by enriching for proteobacteria and depleting organisms from the phyla bacteroidetes. They also found that splenic B and T cell populations were depleted in untreated TLR5KO mice, as well as both strains of treated mice. Although antibiotic treatment of both strains of mice resulted in decreased cortical bone at the femoral diaphysis, treatment had a larger effect on bone morphology and whole bone strength in TLR5KO mice than wild type mice. These results suggested that extended alteration in the gut microbiota during growth may impair whole bone mechanical properties in a manner that extends beyond pure bone geometry.