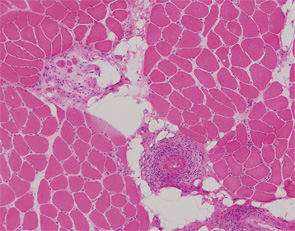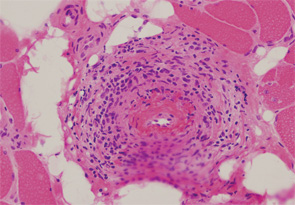 Figures: Muscle biopsy (hematoxylin-eosin), which shows striated muscle with necrotizing vasculitis (microscopic polyangiitis) and signs of denervation.
Patients with diffuse systemic sclerosis (dSS) with an associated ANCA-positive vasculitis have been infrequently described. In this article, we report the case of a 53-year-old woman, previously diagnosed with dSS, who developed an ANCA-associated vasculitis, which manifest as peripheral nerve and muscle disease.
Scleroderma is a disease characterized by sclerosis of the skin and visceral organs, vasculopathy, Raynaud's phenomenon and the presence of autoantibodies. The disease spectrum is wide, with systemic and localized forms, depending on the extent of skin thickening. There is also a vasculopathy involving multiple organ systems that leads to the presence of cutaneous and mucosal telangiectasias, digital ulcers and tissue ischemia. Medium-size vessels can also be involved, sometimes leading to scleroderma renal crisis or pulmonary artery hypertension. However, scleroderma is rarely associated with an ANCA-positive vasculitis. We report this unique situation.
Case Report
A 53-year-old woman was admitted to our hospital with weakness and numbness in her legs. She had been diagnosed with Raynaud's phenomenon 10 years before, followed by the development of autoimmune hypothyroidism. Three years later, she complained of telangiectasias spreading over her face and neck, and she developed a digital ulcer on her middle finger. She noted a dry cough and dyspnea on exertion. The ANA and the anti-topoisomerase antibodies (Scl-70) were positive. She was diagnosed with dSS with pulmonary involvement (moderate to severe pulmonary fibrosis).