In 1991, Swiss-trained rheumatologist and rehabilitation specialist, Gerold Stucki, MD, MS, wrote to top U.S. rheumatologists Lynn Gerber, MD, then at the National Institutes of Health (NIH) in Bethesda, Md.; Robert L. Swezey, MD, then at the University of California at Los Angeles; and George Ehrlich, MD, of the University of Pennsylvania in Philadelphia, to explain that he wanted to better understand patients' functioning and disability in relationship to their condition. He asked each person to recommend a mentor. "I got back three lists," Dr. Stucki recalls, "and at the top of each list was one name: Matt Liang."
You Might Also Like
Explore This Issue
October 2009
Also By This Author
Those familiar with the career of Matthew H. Liang, MD, MPH, professor of medicine at Harvard Medical School, Boston; professor of health policy and management at Harvard School of Public Health; director of special projects at Robert B. Brigham Arthritis and Musculoskeletal Diseases Clinical Research Center; study director of the VA Cooperative Studies Program, at the Massachusetts Veterans Epidemiology Research and Information Center; and Molson Foundation Scholar at the Arthritis Research Centre of Canada in Vancouver, British Columbia, would not have been surprised by this unanimous endorsement. "Matt has built an investigative career evaluating how we can improve the experience of the patient, from the standpoint of direct intervention and evaluation of the outcome," observes his lifelong mentor Halsted R. Holman, MD, the Guggenhime professor of medicine, emeritus at Stanford University School of Medicine in Stanford, Calif.
ADVERTISEMENT
SCROLL TO CONTINUE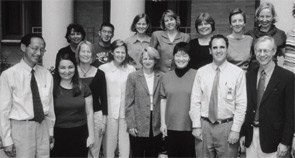 Dr. Liang (at left) with one of his research teams.
Over 50 clinician-researchers from the United States and seven different countries in disciplines from rheumatology to orthopedics to epidemiology have trained at the Robert B. Brigham Arthritis and Musculoskeletal Diseases Clinical Research Center founded by Dr. Liang at the Brigham and Women's Hospital. For 25 years, the center was the only continuously funded of the NIH-supported multipurpose arthritis centers.
ADVERTISEMENT
SCROLL TO CONTINUE
A Rising Tide Raises All Ships
The beginnings of the center were modest. Recruited to Harvard in 1977 by H. Richard Nesson, MD, K. Frank Austen, MD, and Eugene Braunwald, MD, to start a clinical research program in rheumatology and to be a founding faculty member in general medicine and primary care, Dr. Liang recalls that his group was housed at the 'Old Robert,' as the Robert B. Brigham "Hospital for the Incurables" was affectionately called. They worked in the basement, with snow blowing through the windows in the wintertime. Funding was also modest: in its first three years, the center received $45,000 shared with Massachusetts General Hospital and $13,000 a year from the Massachusetts Arthritis Foundation.
When I get really engaged, I can almost 'see and feel' the steps needed to find a solution—and then I have to find the voice to bring others along.
—Matthew H. Liang, MD, MPH
Under Dr. Liang's leadership, the enterprise steadily grew. Dr. Liang was fortunate to recruit Lawren H. Daltroy, DrPH, for an NIH-mandated education expert position at the center. Dr. Daltroy became "my great teacher, scientific soulmate, and center co-architect," says Dr. Liang. "For us, work was play, and play was work; working with Lawren was magical." The two developed a synchrony akin to jazz musicians in a jam session, "playing with ideas, pushing each other to new heights," he explains.
Everyone benefited from their scientific and intellectual largesse and grew personally: trainees were asked to get formal methodologic training at the Harvard School of Public Health and to work with a variety of mentors and researchers at Harvard; nurses, social workers, health educators, psychologists, physical and occupational therapists, health economists, decisions analysts, and biostatisticians worked on common problems; and typists became grants administrators.
Lupus researcher Paul Fortin, MD, MPH, associate professor of medicine, University of Toronto and Director of Clinical Research, Canadian Centre of Excellence, was a fellow at the center from 1989 to 1992. He recalls, "Matt was networking for you all the time—but he didn't let us choose the easy road to do research! And, there was a human side to his mentoring that was quite special. He was not only concerned about our research, but about our well-being."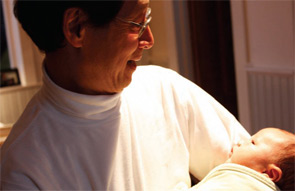 Dr. Liang with his first grandchild, Finn Maxwell Jie Liang, who was born March 7, 2009.
Action Research
Underpinning his investigations has been the drive to discover ways to marry clinical discoveries with the real-life needs of patients. "I was taught that academics have an obligation to help people who are faced with getting through the day with various chronic diseases," notes Dr. Liang.
He applied the rigor of laboratory research to the clinical sciences, and much of his work has been groundbreaking. Dr. Liang's group was the first to use cost-effectiveness analysis and decision analysis in rheumatology. They developed both the theory and new outcomes measures focusing on the patient's experience with various chronic diseases, were often the first to identify and test new risk factors in the cause or course of rheumatoid arthritis (RA) and systemic lupus erythematosus (SLE), and developed the basic methods for using the Nurses' Health Study, the largest cohort in the world, for epidemiologic studies of systemic rheumatic diseases.
"Much of his methodological contributions are as great as what he has done in rheumatology and lupus," says Dr. Fortin. "He's been a great thinker for the lupus field, and like Lavoisier, who defined organic matter, Matt was defining another vocabulary altogether, stressing clinical definitions and the importance of standardizing what you are going to measure."
The group specialized in "action research"—that is, solving real-life problems by pursuing change and discovery pari passu: developing new methods to study outcomes while testing and studying mechanisms of change. Theirs was the very first group in arthritis and musculoskeletal diseases to use the technique of community participatory research, where people and communities with a problem were involved in defining the question, working on solutions, and testing the idea. One multicenter study, in partnership with the Social Security Administration, evaluated the disability determination system for patients with osteoarthritis, RA, and SLE to test a more equitable and efficient system to determine disability for the over 75,000 people with arthritis disabilities. Another study of 39,000 ferry passengers to Nantucket, Mass., demonstrated that a novel intervention employing persuasive communications delivered by street entertainers prevented Lyme disease.
Their work on the effects of race and socioeconomic status in SLE patients at high risk for adverse outcomes was the first to separate out confounding factors from effect modifiers, and led to the identification of self-efficacy as a critically important risk factor. That observation led to a controlled clinical trial demonstrating that an intervention to improve self-efficacy improved outcomes in SLE.
"Matt is not just a medical generalist, he is a human generalist," observes Dr. Holman, "with knowledge and interests way beyond biomedicine. He brings a great breadth of background and interests to his work."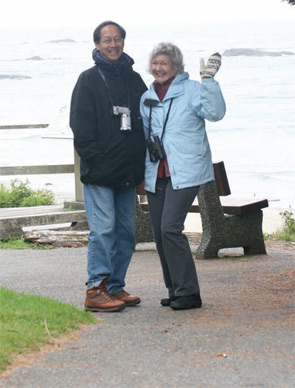 Dr. Liang with his wife, Diane Garthwaite, on a birding and beach walking trip to Tofino, Vancouver Island.
Roots of the Social Rheumatologist
What influences molded Dr. Liang into the investigator whom lupus expert Evelyn V. Hess, MD, once called the founder of social rheumatology? "I am the product of my life's experiences and my mentors," Dr. Liang wrote in an autobiographical memo. His family escaped from Ghuangzhou, China, in 1950 and settled in Baltimore, where his parents had first met, fallen in love, and married. His father, an ear, nose, and throat specialist at Johns Hopkins University there, instilled in him a love of discovery and lifelong learning. From his mother, Dr. Liang learned that "theory was useless unless it could be applied practically," he notes.
Summers spent working with children and adults with cerebral palsy and other chronic disabilities, and his mother's later development of Parkinson's disease, sensitized a young Dr. Liang to the issues faced by those with chronic disease. One summer, he read Sinclair Lewis' Arrowsmith "nonstop and cover to cover." The exploration of Martin Arrowsmith's wrestling with the integrity of his scientific career "changed my life," says Dr. Liang.
Other facets of his education also foretold some of his future directions. He maintains that at Johns Hopkins, where he majored in both philosophy and chemistry, "I was quite awful and clueless in the laboratory, but loved the conceptualization and orderly thinking of putting ideas together and making sense of things." A summer in the lab of Paul Talalay, MD, professor of pharmacology and molecular sciences at Johns Hopkins, was also pivotal. "After chewing me out for letting the automated amino acid analyzer run dry, Talalay said, 'Genius is the infinite ability to take pains.' That stuck forever!" Dr. Liang says.
Community and population health techniques were acquired while he pursued a degree in tropical public health and epidemiology at the Harvard School of Public Health. That work continued when, as a senior medical resident, he started an inner-city neighborhood health center at Boston City Hospital and worked with Roger Mark, MD, using nurse practitioners and telemedicine to care for nursing home residents. His work in this area expanded during his years in the Army, when he led the dissemination of an algorithm-based physician extender program (AMOSIST), which delivered care to 30,000 patients a month.
At this point, recalls Dr. Liang, he began to think about fellowship training and applied in infectious disease, nephrology, cardiology—and to only one rheumatology program. But it was the one he chose that most markedly influenced his path as a physician-activist. He became a rheumatology fellow and a Robert Wood Johnson Clinical Scholar at Stanford University, a hotbed of clinical informatics, health services research, and new models of population health, where he worked with James Fries, MD, professor of medicine there, and Dr. Holman. From Dr. Holman he "experienced true scholarship, grace, and dignity, and [learned] that generosity is power," Dr. Liang says. He was recruited out of fellowship to Harvard.
Seismic Shifts
Dr. Liang's focus on the human experience of medical conditions has, over the span of his career, led to contributions in a variety of scientific areas, sometimes undermining the conventional view. For example, a large-scale, randomized, controlled trial of a popular back school program designed to prevent low back injury among postal workers found no benefits associated with the training.1 A study using Harvard's Nurses' Health Study cohort found no association between silicone breast implants and connective-tissue diseases and threw him and his colleagues into the media spotlight.2 Breast implant plaintiffs' attorneys subpoenaed Dr. Liang's grants and research records to undermine the findings, which were later substantiated.
The years 1997 to 2003 were personally tumultuous for Dr. Liang. His marriage of 26 years ended, and in 2000 he underwent an emergent six-vessel bypass for unstable angina. In 2003, after two chest surgeries for a rare Streptococcus millerei empyema, he pronounced his friend Dr. Daltroy dead; he died of melanoma. He reflected, "His death was the last connection to a wonderful period of my life and made it possible for me to move on. I needed to do it also, as Carly Simon put it, to find the poet in me again." He started anew as a volunteer chief of rheumatology to reorganize and build the affiliate program at the VA; as a principal at the Veterans Administration Cooperative Studies Program, the oldest clinical trials units in the world; and by building a new research program on studying the use of the Internet for public health applications. In 2004, he married Diane Garthwaite, whom he met on a blind date.
CAREER TIMELINE
1969–Earns his MD from Harvard Medical School
1970–Completes an internship at University of Minnesota Hospitals in Minneapolis
1971–Completes a residency at University of Minnesota Hospitals
1972–Earns his MPH from Harvard School of Public Health
1973–Completes a residency at Boston City Hospital
1975–Becomes a Robert Wood Johnson Clinical Scholar at Stanford University Medical Center
1977–Completes a fellowship in rheumatology at Stanford University
1977–Becomes assistant professor of medicine at Harvard Medical School
1986–Becomes associate professor of medicine at Harvard Medical School
1995–Becomes professor of health policy and management at Harvard School of Public Health
1996–Becomes professor of medicine at Harvard Medical School
Dr. Liang as Mentor
Those who have trained and collaborated with Dr. Liang describe a profound influence from his leadership. Rowland W. ("Bing") Chang, MD, MPH, professor of preventive medicine, medicine, and physical medicine and rehabilitation at Northwestern University's Feinberg School of Medicine in Chicago, was Dr. Liang's first fellow at the center. "My work has always been interdisciplinary," remarks Dr. Chang, "and I think it all started with Matt. I found him to be amazingly open to new ideas. He was always looking for people who would have ideas that would move the field ahead. His projects really showed me how much better things can be if you bring a lot of other people from different perspectives to the table to help think about a problem."
Many of Dr. Liang's trainees went on to become leaders in their own right and have been recipients of the 2001, 2006, and 2007 ACR Henry Kunkel Awards; the Edward Dubois Award in 1988 and in 2001; Outstanding Clinical Scientist (Canada); Outstanding Young Investigator (American Bone and Mineral Society); Outstanding Young Investigator (American Nutrition Society); the 2006 Pfizer Prize; the 2001 Outstanding Research Award; the 2002, 2004, and 2007 Best Professor Awards at Hanyang University; the 2006 Seok-Young GSK Medical Scholar Award; the 2007 Freedom of Movement Award; the 2008 APLAR Distinguished Clinical Scientist; the Jean and Linette Warnery Prize; and the Hirzel-Callegari Prize, among others.
"Now that I am running a department with 160 people [currently as professor and chair of the Department of Physical and Rehabilitation Medicine at Ludwig-Maximilians University in Munich, Germany]," notes Dr. Stucki, "there is no day that I do not refer to some of the concepts and ideas that Matt Liang taught me. We have now translated these concepts into our culture here, so a lot of people have benefited from that mentoring."
Another mentee, W. Neal Roberts, Jr., MD, currently the Charles W. Thomas Professor of Medicine and Rheumatology, at Virginia Commonwealth University Medical College in Richmond, says of Dr. Liang "The door to his office was literally always open. At the time I worked with him (1982–1984), he said that he couldn't get much thinking done, except when he was in the air, traveling. But it didn't damage him, because he was always working at some level just about everywhere he was.
"What I learned about research from Matt is that if you try to tackle the impossible thing, you won't have as much competition—and that a successful intervention can be its own validation," continues Dr. Roberts. He is currently engaged in a project to use his medical center's computer system to better serve young black women with lupus who suffer from fragmented care. When he invited some Wisconsin colleagues to help tackle the project, they replied, "We can't do it; lupus is too complex." But, he says, "That's the kind of thing that would just attract Matt like a shark!"
Dr. Liang talked about how he works: "When I get really engaged, I can almost 'see and feel' the steps needed to find a solution—and then I have to find the voice to bring others along." He offers the story told by the 6th-century B.C. Chinese philosopher Lao Tzu to illustrate the challenge of those, like himself, who want to close the gap between what we know and what we do in translational research:
A philosopher is contemplating a problem and notices that the other end of his house is burning. There is a pond beside it and a bucket at the end of the building. The philosopher reasons that the bucket could be filled with water and if done over and over again could be used to extinguish the fire. Having solved the problem in principle, he goes back to his ruminations.
"Matt Liang's work has been focused on a wide variety of topics and has been very novel," reflects his colleague John Esdaile, MD, scientific director of the Arthritis Research Centre of Canada at the University of British Columbia in Vancouver. "He sees a major scientific or clinical gap, fixes it, and leaves other people to pursue certain elements while he has found some other large gap and is already thinking about what he's going to do for that. No one has done this as well, or on so many different topics, as Matt has."
Gretchen Henkel is writing the Metrics in Rheumatology series.
References
Daltroy LH, Iversen MD, Larson MG, et al. A controlled trial of an educational program to prevent low back injuries. N Engl J Med. 1997. 337:322-328.