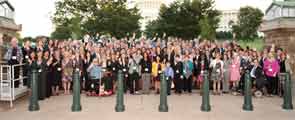 Advocates for Arthritis participants gather World Arthritis Day in front of the Capitol building.

Apply today to attend Advocates for Arthritis on September 9–10, 2013, in Washington, D.C. This is a valuable opportunity to educate Congress on the impact of arthritis and rheumatic diseases on quality of life, and the importance of care provided by a rheumatology professional. The ACR is also looking for patient advocates who are willing to participate, so please encourage your patients to apply as well. For more information, please visit www.rheumatology.org/advocacy.
Unable to join us in Washington? Participate in our Advocates for Arthritis virtual advocacy day! We want to make sure our collective voice is heard loud and clear on Capitol Hill. Be sure to visit the Advocacy page on the ACR website, www.rheumatology.org/advocacy, on September 9–10 to send a special electronic message to Congress.