"And of course, I am not telling you to do it. That would be illegal."
As a general rule, I try not to instruct my patients to break the law. My business model depends on repeat customers, so placing a patient at risk of getting arrested—even if that risk is remote—doesn't seem like a good idea. On the other hand, I am a realist. I know my patients will be cracking crabs this summer, even though I have warned them it may make their gout flare. I also know my patients on metho­trexate will sneak a beer now and again, because what's the point of eating crab if you can't wash it down with a beer?
ADVERTISEMENT
SCROLL TO CONTINUE
When I take a patient's interval history, I always tell them I want them to tell me the truth. I don't want to hear a lightly fictionalized account of some ideal patient whom I have not met. I want them to confess their sins, their failings, their shortcomings, so I can help them get where they need to go. And, if they are planning to do something illegal, anyway, I would like to know that, too.
I am, of course, talking about purchasing drugs from Canada.
ADVERTISEMENT
SCROLL TO CONTINUE
Of course, you don't do this yourself. You do, however, know someone who does. In fact, in 2016, 19 million Americans imported drugs into the U.S. for their personal use.1 Americans have a long tradition of purchasing drugs from Canada, dating to the pre-internet era, when this involved driving the family station wagon to Toronto or Montreal. The internet has added jet fuel to this phenomenon, allowing even the least adventurous patient to price drugs across the border.
The reason you (likely) don't know anyone who has been arrested for purchasing drugs from Canada is that the government looks the other way. Like marijuana in many states, bringing drugs into the U.S. is illegal, but has been de facto decriminalized. As long as the drugs are imported for personal use and don't exceed a 90-day supply, the federal government will not prosecute anyone's grandmother for trying to get a cheaper inhaler.2
But the phenomenon is even bigger than that. One company—CanaRx—has worked for years with 500 American towns, cities and school districts, to facilitate the importation of lower cost, brand-name drugs, for the use of their employees.3
ADVERTISEMENT
SCROLL TO CONTINUE
Now states want to get in on the action. In June 2019, Florida Governor Ron DeSantis signed legislation that created two programs designed to facilitate the import of drugs from Canada:
The Canadian Drug Importation Program, which would focus on lowering prices for state-supported institutions, such as Medicaid and the prison system; and
The International Prescription Drug Importation Program, which would allow Florida to serve as the middleman between international drug wholesalers and American pharmacies.4
These programs would function behind the scenes, so the average Floridian would be unaware their medications were not originally destined for an American market.
Florida is not the first state to come up with this idea. Colorado and Vermont have already passed laws allowing the wholesale importation of some of the most expensive drugs from Canada. All three states (FloVeCo) are now working on obtaining federal approval to implement these plans.5
This is no small hurdle. The 2003 Medicare Modernization Act gives the Secretary of Health and Human Services the authority to allow the importation of prescription drugs from Canada. This authority comes with two preconditions: the Secretary has to certify that importing drugs would not place patients at risk. And, of course, it would have to save money.6
No Secretary in four administrations has tried to exercise this authority. The current Secretary of Health and Human Services, Alex Azar, has already spoken out against the idea of importing drugs from Canada, calling the plan a gimmick.7
Although you would think that would be the end of it, these laws have an unusually influential fan: President Donald J. Trump, who has ordered Mr. Azar to work with the Florida state legislature to put this plan into action.8
Who knows if this will go anywhere. In politics, willpower may last only until the next election, and I would imagine a nice-sized payday awaits the lobbyist who can make this all go away. But how did we get to this point, and would importing drugs from other countries really lead to cheaper drugs for more American patients?
Setting Prices or Not
It will surprise no one to learn the U.S. pays more for medications per person than most other countries, even when the use of said medications is about the same. What is everyone else doing that we're not? Although each country approaches the issue differently, some common themes emerge:
Aggregated purchasing: As Walmart has demonstrated, prices tend to fall when the purchaser represents a large market share. In some countries, the government serves as the major purchaser; in other countries, a coalition of insurers work together.
Health technology assessments: Expert panels assess every drug that comes to market to determine its benefits and the costs associated with those benefits.9
Aggregated purchasing and health technology assessments facilitate lower prices through negotiation. In many countries, a panel that represents the aggregated purchaser takes the information provided by these expert panels and determines what any given drug is worth. Because there is essentially one buyer in these countries, pharmaceutical companies are highly motivated to negotiate, knowing only one door into these markets exists.
This process already occurs in the U.S. on a smaller scale. The Veterans Administration (VA) and Kaiser Permanente, which represent millions of patients, can both guarantee lower prices for their patients through such negotiations.
Why doesn't the U.S. negotiate the prices of drugs on a larger scale? The short answer: the non-interference clause.10 This refers to the law that prevents the Secretary of Health and Human Services from negotiating the prices paid by Medicare directly with pharmaceutical companies. The less charitable among you could probably come up with your own explanations as to how this law came into being. Officially, however, Congress decided the best way to keep drug prices down would be to allow market forces to determine how much each drug should cost.
On the face of it, Congress judged poorly. The law, however, reflects another hard truth: Negotiation only works if you are willing to walk away. Giving the Secretary of Health and Human Services the power to negotiate prices is pointless if we are not simultaneously giving the Secretary the right to say no to certain drugs. Kaiser Permanente famously tried doing this years ago when it refused to pay for the latest blockbuster drug, saying the benefit was not worth the cost. That drug was Viagra.11 Just imagine how long that decision would have stood if we elected Kaiser Permanente's Board of Directors. Denying our patients any drug that might benefit them, no matter the cost, seems, well, un-American.
Enter Canada.
Ryan Reynolds, Canadian?
Why does the U.S. Food & Drug Administration (FDA) care if my Viagra comes from Canada? Surely, the country that produced ersatz Americans, such as Ryan Reynolds, Michael J. Fox and Rick Moranis, could be relied upon to produce our drugs, as well.
The first problem is that not all Canadian drugs come from Canada. Just because a website has a maple leaf on its landing page doesn't mean you can assume an internet pharmacy is selling drugs initially intended for the Canadian market.
In fact, if you traveled to Canada, you would never run into one of these pharmacies, because they are largely virtual. No brick-and-mortar Canadian pharmacy would ship medications directly to a patient in the U.S. It's against the law—at least, if the American patient is using an American prescription. Canada requires Canadian pharmacies have a Canadian prescription.
So how is the grandmother in Boca getting her inhaler from Canada? The legitimate Canadian pharmacies pay a Canadian physician to rewrite the prescription, thus satisfying the letter, but not the spirit of the law. Given the profit motive, one could imagine that less reputable internet pharmacies may seek to maximize profits by further outsourcing these prescriptions to other countries. Thus, the drugs your patient orders from a purported Canadian pharmacy may actually be coming from India.12
That's the point. The FDA barely has the resources to police the manufacture of generic drugs legitimately sold in the U.S. It does not have the resources to police the internet pharmacies now cropping up. In a 2005 sting, the so-called Bait and Switch operation, the FDA found the majority of drugs being sold as Canadian either did not originate in Canada or were counterfeit.13 Although driving across the border to purchase drugs in a brick-and-mortar Canadian pharmacy is perfectly safe, at least some of our patients who believe they are purchasing Canadian drugs through the internet are being catfished. Caveat emptor.
It will surprise no one to learn the U.S. pays more for medications per person than most other countries, even when the use of said medications is about the same. What is everyone else doing that we are not?
Getting state governments involved would obviate this problem. By purchasing drugs directly from Canadian wholesalers, the provenance of the drugs would be assured. Florida is now working with the states of Vermont and Colorado to create a single purchaser representing almost 30 million people. Kaiser Permanente, by way of comparison, serves 12.3 million people, and the VA serves 9 million veterans annually. A FloVeCo purchasing block would have quite a bit of leverage at the negotiating table.
Is this really the way forward? Maybe. The gradual legalization of marijuana across the U.S. demonstrates that state legislatures are willing to tackle sticky issues the federal government would rather ignore.
Of course, purchasing drugs from Canada is not a long-term answer. Canada is a nation of 37 million, making it roughly the size of California in terms of population. It simply doesn't have enough drugs to share. American demand for drugs, funneled through Canada, could also lead to an increase in Canadian drug prices. Also, I'm not a legal savant, but I would assume drug companies could stipulate in their contracts that wholesalers not contract with American governments in exchange for even more favorable pricing. From a purely economic standpoint, it would be like writing off California to retain free access to the markets in the other 49 states.
Finally, it has not escaped anyone's notice that there is a certain irony in this strategy. Many of the most expensive drugs being discussed are actually manufactured in the U.S. For reasons that make no sense, drugs that make a quick trip across the border cost less than drugs purchased directly from American manufacturers.
In mathematics, there is the concept of the lemma, also known as a helping theorem, which is a proposition that must be proved to get to a more important result. These new laws are lemmata that prove that state governments can work together to address the cost of drugs in the U.S. The next step will be creating coalitions of state govern­ments that can negotiate prices directly with the pharmaceutical industry. This will likely require a sea change in how drugs are priced in the U.S., which will impact pharma­ceutical voucher programs and pharmacy benefit managers. We may also need to readjust our own expectations regarding our right to have access to the most expensive drugs immediately after they come to market.
That said, it is pure insanity that any American should suffer because they can't afford to purchase insulin or an epinephrine auto-injector. I don't want anyone to break the law, but given the tremendous need, we should ask our laws to bend.
---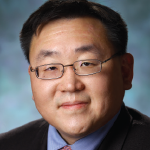 Philip Seo, MD, MHS, is an associate professor of medicine at the Johns Hopkins University School of Medicine, Baltimore. He is director of both the Johns Hopkins Vasculitis Center and the Johns Hopkins Rheumatology Fellowship Program.
References