You Might Also Like
Explore This Issue
January 2015
Also By This Author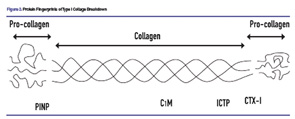 click for large version
Figure 2: Protein Fingerprints of Type I Collage Breakdown
Schematic representation of the type I collagen molecule. Modern clinical chemistry provides important information through the measurement of specific fragments of this molecule, through an understanding of the exact epitope, and the molecular process that led to the formation of that epitope. As an example, measurement of the N-propeptide of type I collagen (PINP) reflects bone formation, while C-telopeptide of type I collagen (CTX-I) is a measure of bone resorption. ICTP = C-terminal crosslinking telopeptide of type I collagen generated by matrix metalloproteinases. Adapted from Bay-Jensen A, Byrjalsen I, Kenwright A, Platt A, Karsdal MA. Identification of serological biomarker profiles associated with early response to tocilizumab in rheumatoid arthritis. Ann Rheum Dis 2012;71 Suppl 3:96.
Source: Karsdal MA, Bay-Jensen A-C, Henriksen K, et al. Rheumatoid arthritis: A case for personalized health care? Arthritis Care Res (Hoboken). 2014 Sep;66(9):1273–1280.
Hambardzumyan and colleagues performed a post-hoc analysis of these data to evaluate the MBDA, and found that MBDA at baseline better predicted RP than CRP or DAS28CRP. No patients with a Low score of <29 had RP, whereas 3.4% of the Moderate group (30–44) and 20.9% of the High group had RP. The MBDA helped distinguish those who would vs. would not have RP much better than the ESR, CRP and DAS28CRP. Further, the higher the MBDA score, the greater the likelihood of RP.
This group presented two posters at the 2014 ACR/ARHP Annual Meeting in Boston (RA-Clinical Aspects: Novel Biomarkers and Other Measurements of Disease Activity). They correlated the change in the MBDA from baseline to three months in the SWEFOT data with the likelihood of achieving a EULAR Good response. This actually provided some prediction regarding how patients would do in the two groups. Recall that all patients were on MTX monotherapy during this three-month period. Those who had reduction of >20 points were much more likely to respond to triple therapy (67%) than MTX/infliximab (38%). Conversely, those whose MBDA score improved less than or equal to 20 points were somewhat more likely to respond to infliximab (57%) rather than triple therapy (43%). This is an example of how a biomarker might provide some guidance in terms of whether a patient is more likely to respond to one therapy than another.
ADVERTISEMENT
SCROLL TO CONTINUE
Their second poster evaluated the reduction in the MBDA score from baseline to one year as a predictor of RP. Those with high scores (>44) who achieved a reduction to <44 by one year were much less likely to have RP than those whose scores remained >44. Here, a score reduction is correlated with less likelihood of radiographic prediction.