You've come to rely on the ACR for meeting your professional development needs. Along with the ACR/ARHP Annual Scientific Meeting, the College provides symposia and other courses designed especially for rheumatology health professionals.
You Might Also Like
Explore This Issue
December 2010
Also By This Author
Start off 2011 in Snowmass, Colo., for six days of education, networking, and skiing at the Winter Rheumatology Symposium.
ADVERTISEMENT
SCROLL TO CONTINUE
Continuing a tradition over three decades long, the 2011 program, to be held January 22–28, offers more than 20 sessions on topics ranging from macrophage activation syndrome and biologic therapy for systemic lupus erythematosus to the genomics of inflammation and "mogul-proofing" the bones. As time-honored features of this program, the agenda will include an expert panel on rheumatoid arthritis (RA) therapy and the always popular Points-on-Joints.
The unique structure of this symposium offers an intimate setting for meeting attendees to network with speakers and colleagues. Sessions are scheduled in the morning and late afternoon so you can take full advantage of the amenities that Snowmass offers.
ADVERTISEMENT
SCROLL TO CONTINUE
The Innovative Therapies in Autoimmune Diseases Conference on March 5–6 in Arlington, Va., is designed to provide an open forum for academia, industry, and the U.S. Food and Drug Administration (FDA) to discuss the development of new therapies for rheumatic diseases.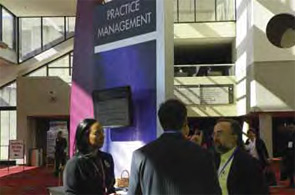 Attendees at the 2010 ACR/ARHP Annual Scientific Meeting in Atlanta.
Representatives from the ACR, FDA, and pharmaceutical and biotech organizations all contribute to the development of this distinctive conference, which will focus not only on new therapies but also innovative concepts in delivery systems, the changing climate for trial design, biosimilars, vaccines for autoimmune diseases, and developments in mesenchymal stem cell research. The program agenda promises to be stimulating and thought provoking.
The Rheumatology Maintenance of Certification (MOC) Course, to be held March 18–20 in Fort Worth, Texas, is designed as an interactive learning experience assisting physicians in building their knowledge base in the diagnosis, management, and treatment of rheumatic diseases. Whether you are preparing for the Rheumatology Board exam, MOC exam, or looking for a comprehensive refresher course, this course can meet your educational needs.
ADVERTISEMENT
SCROLL TO CONTINUE
The MOC course is based on the topics and cases presented in the ACR's self-assessment activity, CARE. Specifically in the 2011 course, CARE 2010 will be brought to life by expert faculty providing context and answer rationales to intriguing cases with opportunities for discussion of diverse topics such as the anatomy of the musculoskeletal system, humoral and cellular immunology, the role of immunogenetics in predisposition to rheumatic diseases, and more.
Course registration includes access to CARE 2010. Upon successful completion of the CARE 2010 self-assessment module, those enrolled in the American Board of Internal Medicine MOC program can claim 30 MOC points in the category of self-evaluation of medical knowledge.
Seating is limited, so be sure to register early for this course.
The State-of-the-Art Clinical Symposium, which will be held April 16–17 in Chicago, will expose attendees to a range of content in therapeutic developments, recent research findings, and scientific advances in the field, all delivered by key opinion leaders in a setting conducive to dialogue and networking. With a focus on clinical application in the practice setting, leading experts will address topics such as advanced RA care, osteoporosis, autoimmune disorders, scleroderma, and challenges in vasculitis and spondyloarthropathy.
In addition to the lecture format, presentations will include the popular Curbside Consults, Year in Review, and the Encore Theater. A number of lunchtime workshops will offer a smaller setting for interactive discussions related to topics of clinical importance. In addition, the ARHP will offer a preconference course on Friday, April 15 titled, "Integrating Immunology and Biologics into Clinical Practice."
Held concurrently with the 2011 State-of-the-Art Clinical Symposium, the Musculoskeletal Ultrasound Course for Rheumatologists is a two-day course designed to meet the specific educational needs of rheumatologists who want to learn ultrasound technology and who are currently at a beginner or intermediate experience level. Under the guidance of experts from around the world, attendees will perform hands-on scanning of live models to enhance technical proficiency for the diagnosis of normal and abnormal clinical conditions.
At the completion of this course, attendees should be able to demonstrate familiarity with the anatomy, physiology, and pathophysiology of the shoulder, elbow, hand and wrist, hip, knee, foot, and ankle and ultrasound guidance of aspirations, injections, and biopsies.
The 2011 Pediatric Rheumatology Symposium, which is dedicated to rheumatologists and advanced practice professionals caring for the pediatric population, carries on the educational tradition of previous winter meetings held in Keystone, Colo., offering the same quality experience in a warmer climate—Miami. This setting will provide opportunities for faculty and attendees to exchange best practices, network, share experiences, and take full advantage of the recreational activities and cultural amenities of the area.
In addition to the change in venue, the 2011 Pediatric Rheumatology Symposium, to be held on June 2–5, will provide a greater number of plenary sessions and ample opportunities for abstract presentations and poster sessions held in conjunction with breakfast. Join colleagues for lunchtime sessions and informal roundtable discussions on topics like exercise testing and training, foot problems and gait analysis, psychosocial issues in the adolescent patient with rheumatic disease, promoting weight control, and a host of topics on clinical case management.
Be sure to check the Calendar of Events on page 5 for important registration deadlines for all of these events.
For complete 2011 program information and to register online for any of these meetings, visit www.rheumatology.org/education.