You've come to rely on the ACR for meeting your professional development needs. Along with the ACR/ARHP Annual Scientific Meeting, the College provides symposia and other courses designed especially for rheumatology health professionals.
Start off 2011 in Snowmass, Colo., for six days of education, networking, and skiing at the Winter Rheumatology Symposium.
Continuing a tradition over three decades long, the 2011 program, to be held January 22–28, offers more than 20 sessions on topics ranging from macrophage activation syndrome and biologic therapy for systemic lupus erythematosus to the genomics of inflammation and "mogul-proofing" the bones. As time-honored features of this program, the agenda will include an expert panel on rheumatoid arthritis (RA) therapy and the always popular Points-on-Joints.
The unique structure of this symposium offers an intimate setting for meeting attendees to network with speakers and colleagues. Sessions are scheduled in the morning and late afternoon so you can take full advantage of the amenities that Snowmass offers.
The Innovative Therapies in Autoimmune Diseases Conference on March 5–6 in Arlington, Va., is designed to provide an open forum for academia, industry, and the U.S. Food and Drug Administration (FDA) to discuss the development of new therapies for rheumatic diseases.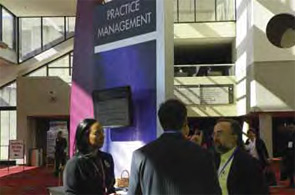 Attendees at the 2010 ACR/ARHP Annual Scientific Meeting in Atlanta.
Representatives from the ACR, FDA, and pharmaceutical and biotech organizations all contribute to the development of this distinctive conference, which will focus not only on new therapies but also innovative concepts in delivery systems, the changing climate for trial design, biosimilars, vaccines for autoimmune diseases, and developments in mesenchymal stem cell research. The program agenda promises to be stimulating and thought provoking.
The Rheumatology Maintenance of Certification (MOC) Course, to be held March 18–20 in Fort Worth, Texas, is designed as an interactive learning experience assisting physicians in building their knowledge base in the diagnosis, management, and treatment of rheumatic diseases. Whether you are preparing for the Rheumatology Board exam, MOC exam, or looking for a comprehensive refresher course, this course can meet your educational needs.
The MOC course is based on the topics and cases presented in the ACR's self-assessment activity, CARE. Specifically in the 2011 course, CARE 2010 will be brought to life by expert faculty providing context and answer rationales to intriguing cases with opportunities for discussion of diverse topics such as the anatomy of the musculoskeletal system, humoral and cellular immunology, the role of immunogenetics in predisposition to rheumatic diseases, and more.