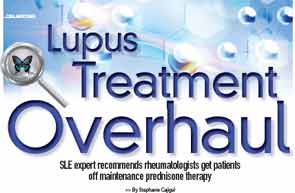 SANTA MONICA, CALIF.—The drug prednisone is a major problem in the treatment of systemic lupus erythematosus (SLE), disease expert Michelle Petri, MD, MPH, said here on May 19 at the California Rheumatology Alliance 9th Annual Medical and Scientific Meeting.
"I say the p in prednisone stands for poison, so that if I'm giving a lecture or general grand rounds, the primary care doctors will hopefully remember just that one point. But we have to remember it, too," said Dr. Petri, professor of medicine and director of the Lupus Center at Johns Hopkins University School of Medicine in Baltimore.
Dr. Petri pointed out that musculoskeletal is the most common organ system to be damaged by corticosteroids in patients in SLE. Osteoporotic fractures are the most common musculoskeletal damage due to prednisone, followed by avascular necrosis. "Even if prednisone has short-term benefit, our patients are paying an unacceptable long-term cost," she said.
Dr. Petri, acknowledged, however, that organ damage is multifactorial, with osteoporotic fractures, for example, partially explained by the vitamin D deficiency that is almost universal in lupus. She also pointed out that surveys have shown that many patients with SLE are taking proton pump inhibitors, which, according to warnings from the U.S. Food and Drug Administration, contribute to osteoporotic risk. These factors point to a multitude of things that rheumatologists must think about in order to reduce the long-term burden of osteoporosis, she said.
But, during her presentation, Dr. Petri repeatedly pointed out that the problem of long-term damage must first be addressed by a reduction in prednisone and emphasized that her goal is to redefine for practicing rheumatologists what "high-dose" prednisone means. She cited a study from 2009 in which she and colleagues concluded that "high-dose" prednisone should be defined as greater than 6 mg/day.1 The group prospectively followed 525 patients with incident SLE and reported the following hazard ratios of organ damage for prednisone as compared with no prednisone use:
1.16 for cumulative average doses >0–6 mg/day
1.50 for >6–12 mg/day
1.64 for >12–18 mg/day
2.51 for >18 mg/day
"You can see what happens with our lupus nephritis regimens, because in those regimens, everybody is going to be way above 18 mg, and that is going to lead to a 2.5-fold increase in organ damage," Dr. Petri said.
HCQ Benefits
Throughout her presentation, Dr. Petri emphasized the benefits of hydroxychloroquine (HCQ) over prednisone; specifically, that it reduces flares, later renal and central nervous system damage, LDL cholesterol, and thrombosis.