An army has a general. An orchestra has a conductor. A basketball team has a coach. What does academic medicine have for its members? The answer is mentoring committees. That, dear friends, is why I am concerned for the future.
You Might Also Like
Explore This Issue
August 2008
Also By This Author
For those of you who are unfamiliar with the term, a mentoring committee is a group of faculty whose job is to guide and advise people early in their career, whether they are house staff, fellows, or newly minted assistant professors. As usually constituted, a mentoring committee is a diverse group—clinicians, clinical investigators, and basic investigators—with the ensemble of interests and talents designed to provide a range of viewpoints to help the trainee make better career choices. A mentoring committee does not supplant the mentor. Rather, the committee facilitates the choice of the mentor, monitors progress, and otherwise assures that the youngster's career hums along on the road to success.
ADVERTISEMENT
SCROLL TO CONTINUE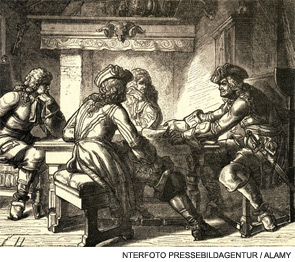 A war council can inspire confidence and accomplish great goals. Does "mentoring committee" have the same oomph?
Sometimes, a group can provide a unique structure to make decisions or accomplish important goals. A group can even have a name that inspires confidence and symbolizes strength: brain trust, tribal elders, war council. Does "mentoring committee" have the same oomph? Is it right vehicle to forge the next generation of leaders?
How Should Medicine Be Mentored?
I would not have been writing this series if I was convinced that the direction of current training and its foundation in committees is the right one. Like many older (and old-fashioned) people, I like the bygone days where the lines of authority were clear and direct and the mentor functioned as a head coach. I question whether a committee diffuses responsibility and can confuse young people with mixed messages as to who is really in charge. Furthermore, with the burden of documentation and arcane practices like 360-degree evaluation, a committee adds a layer that can try the soul.
ADVERTISEMENT
SCROLL TO CONTINUE
I often sit on mentoring committees. I am always happy to ponder the different ways to train a fellow but, in my heart, I believe that everyone during the fellowship years should tackle a major research project. My preference, of course, is to have the fellow get his or her hands dirty in a laboratory, the kind with test tubes, pipettes, and whirling centrifuges.
Why this belief? Serious research is a challenge that teaches and demands discipline, fortitude, and focus. By engaging in research, a fellow learns to be creative and innovative and can acquire skills that are valuable whatever the eventual career path. Ultimately, research teaches the trainee to think, and thinking is good.