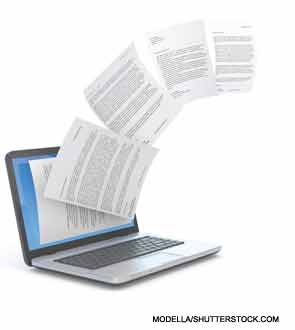 Clinical documentation improvement, although not a new program, has made new strides emerging as another strategic step in an effort to improve quality and compliance. The common mantra, "Document, document, and document," is even more imperative to physician practices than ever before. Effective documentation is the key to successfully combing through all the healthcare initiatives as well as pre- and post-audits.
ADVERTISEMENT
SCROLL TO CONTINUE
Keep in mind: It's not about questioning if a patient's visit or care was medically necessary, but more about making sure that claims are not denied or audited. In an effort to avoid the onslaught of payer audits, it's important to implement a CDI program and include a quarterly or yearly practice per­formance audit plan.
Creating a CDI Program
Why is clinical documentation important? Documentation is critical for patient care, serves as a legal document for quality reviews and validates the patient care provided. Additionally, CMS requires all medical conditions evaluated and treated together, with patient health history, past and present illness and outcomes documented in the medical record. Thoroughly documented medical records have proved to reduce the reworking of claims on the back end.
ADVERTISEMENT
SCROLL TO CONTINUE
Documentation improvement is at the core of every healthcare organization. To improve clinical documentation, physician practices must identify current deficiencies, inconsistencies and discrepancies in their current documentation. A clinical documentation improvement program requires a dedicated team in the practice to guarantee the information documented in medical records reflects an accurate portrayal of the patient's diagnoses and care provided.
A CDI program is designed to:
Promote medical necessity documentation to support therapies, treatments and procedures;
Ensure accurate and complete documentation for accurate coding and reimbursement, reduced compliance risk and the correct identification of the principal and/or secondary diagnoses; and
Support evidence-based care for quality reporting measures.
Concise and complete documentation drives correct reimbursement and facilitates accurate quality reporting. On the other hand, the negative impact of poor-quality documentation can be costly to physician practices. Creating and maintaining an operational CDI program should be a high priority for every rheumatology practice. For those already with a practice improvement program, now is the time to do any fine-tuning necessary to stay on track.
ADVERTISEMENT
SCROLL TO CONTINUE
A successful clinical documentation program leads to better communication with providers, decreased retrospective queries, minimized denied claims and, potentially, increased reimbursement, but most of all—improved clinical documentation.
Practice Performance Auditing
The word audit usually strikes fear in the heart of many physician practices. Instead of experiencing anxiety and fear, practices should create a practice improvement plan to identify any inappropriate documentation, coding and billing issues. A practice performance audit involves a series of evaluative and investigative reviews of four general areas in the practice, including data entry/billing, clinical documentation, coding and charge capturing; however, many other areas of the practice affect reimbursement. All office personnel—registration, front desk, clinical, checkout, data entry, charge capturing, coding and payment posting—contribute to the financial success of a practice.
One of the key reasons to self-audit a practice's documentation and billing process is to identify areas in the practice that could potentially put the practice at risk. The Office of Inspector General describes seven elements it relies on as a foundation for provider compliance; the first of the seven is auditing.
All practice staff knows that even when the ICD-9-CM and CPT codes are assigned correctly for an encounter, the claim may be denied, rejected or not properly paid due to a multitude of reasons. The practice performance audit endeavors to evaluate any errors, timeliness of practice processes and inefficiencies within the practice that may result in incorrect, delayed or denial for payment for services.
Key guidelines to follow when performing practice audits:
Select random charts; this will help with looking at the variety of services performed. It will not profit the practice if only selected visits are reviewed, which can leave the practice vulnerable if certain visits are not reviewed;
Physicians should not review their own charts, because it's almost impossible to be unbiased when looking at one's work. It's important for the person reviewing the charts to have knowledge of coding rules and guidelines and understand how to complete an audit review worksheet;
Practices should use the same rules auditors use to review charts. Although many payers may interpret guidelines differently, they usually follow some key rubrics when it comes to auditing physician charts; and
Auditing results should be educational, because this is a learning opportunity for the entire practice. Physicians should have the chance to review the results and discuss openly.
Clinical Documentation
In addition to reviewing the services documented and ordered vs. what was coded and billed, a practice performance audit should review signature requirements for physicians and other healthcare professionals. Services that can't be validated based on third-party guidelines should be reviewed and possibly reported and refunded if reimbursement was received for services.
Coding
The most common practice performance audits are for coding the diagnoses and procedures. When conducting a coding audit, the following components should be incorporated as part of the practice performance audit:
Assigned codes vs. audited codes;
Assigned codes vs. codes on the explanation of benefits; and
Assigned codes vs. codes on claim that was sent to carrier.
The key to ensuring all reimbursable services are captured in the medical record is to develop a method to identify any noncaptured services and to make revisions and additions to charge documents and billing systems. This method will help to capture money that otherwise would be lost to the practice.
Analysis & Process Improvement
Performing a documentation improvement initiative or performance audit accomplishes very little unless a serious effort is put forth to correct problems that are identified. Once the information from a practice performance audit is compiled, the data should be recorded and analyzed. By identifying areas of deficiency or those that need improvement, practices can begin the process to:
Improve documentation if necessary;
Decrease days in data entry and improve collections;
Reduce days in accounts receivable;
Implement mechanisms to identify services that were missed and not captured; and
Provide education to providers and staff areas that are deficient.
Although these quality and compliance initiatives are burdensome and do nothing for patient quality care, physician practices will still need to avoid any potential risk and liability associated with improper coding and billing. It is a well-known fact the government is intensifying its efforts to crack down on medical fraud and abuse. Monitoring tools should be developed and put in place to track and audit the coding and billing aspects of the practice. Audits should be performed on a regular basis and made a part of the practice's compliance program. This can be done by starting out small and by selecting areas that are possibly at risk.
Have questions or need additional information on creating a CDI program or performing self-audits? The ACR coding and practice management staff is here to assist. For information on creating a CDI program, contact Antanya Chung at achung@rheumatology.org or 404-633-3777 x818. For assistance with coding, auditing or claims denials, contact Melesia Tillman at mtillman@rheumatology.org or 404-633-3777 x820.