Note these CPT and Healthcare Common Procedure Coding System (HCPCS) code changes:
The previous CPT codes for dual energy X-ray absorptiometry and vertebral fracture assessment (codes 76075–76077) have been replaced by CPT codes 77080–77082.
Two common rheumatologic drugs have been given permanent HCPCS codes: J1740 for ibandronate sodium and J0129 for abatacept. Previously, these were coded as unlisted J3490 and J3590, respectively.
The HCPCS code J7319 will no longer code for the drugs Hyalgan, Supartz, Synvisc, Euflexxa, and Orthovisc.
CMS reversed the decision to combine these drugs under one code because of an October 2006 appeal by Genzyme, the manufacturer of Synvisc, a viscosupplement used to treat knee pain caused by osteoarthritis. Their argument was that reimbursement for Synvisc would be far below market value, discouraging doctors and patients from using it.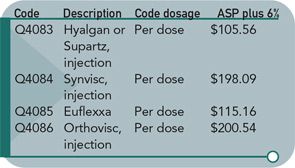 click for large version
Because the J7319 decision was reversed after the 2007 HCPCS book was published, CMS has established four temporary Q-codes for the affected drugs for the rest of 2007:
These four new Q-codes are mandatory for billing CMS, but rheumatologists will need to ask private carriers if they are accepting the Q-codes.