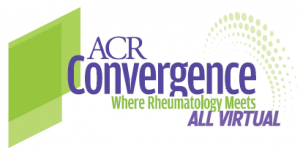 The ACR recognizes the incredible challenges that 2020 has presented and that it may be difficult to channel your energy into other topics. But we also believe focusing on the future will help everyone keep moving forward.
Now, more than ever, the rheumatology community needs to maintain connections. ACR Convergence 2020 provides an opportunity to do just that. Get ready for an all-encompassing, all-virtual experience designed for the global rheumatology community. ACR Convergence 2020 is where:
Discovery happens;
Friendships grow;
Inspiration abounds;
Communities unite;
Patients are heard; and
Opportunity thrives.
We've given the ACR/ARP Annual Meeting a new name and a fresh look, reimagining the experience without losing the elements you care about the most: stellar rheumatology education, cutting-edge advances in science and outstanding networking opportunities. This fully virtual meeting is where rheumatology can collaborate, innovate and learn.
As always, your presence and participation are what make the meeting an enriching and valuable experience. We hope you will engage with us every step of the way, so together we can build an even stronger sense of community:
Showcase your work to even broader audiences;
Highlight the work of your colleagues worldwide in new and exciting ways;
Extend your professional collaborations and exchanges, which have long been a hallmark of our annual meeting; and
Engage in a new paradigm of interactive learning through an online, virtual conference experience.
In the coming weeks and months, we will share additional details and promise to keep you fully informed.
Visit rheumatology.org/Annual-Meeting or contact [email protected] for more information regarding the move to an all-virtual meeting.