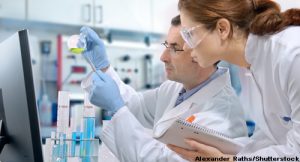 Antigens from the microbiota are constantly identified by the immune system, generating a pool of memory T cells and immunoglobulin G (IgG) memory B cells. These immune cells can then cross-react with antigens from the host, which can contribute to the pathogenesis of autoimmune disease. A study in Cell Host & Microbe looks at this interaction in patients with antiphospholipid syndrome (APS).1
You Might Also Like
Also By This Author
"APS is understudied and undertreated," says Martin A. Kriegel, MD, PhD, senior author and adjunct professor of immunobiology at Yale School of Medicine, New Haven, Conn. "In APS, the role of the microbiome hasn't been considered in depth. Given the sheer number of microbes we have, there are quite a few likely to stimulate both T and B cells, which are major drivers of autoimmunity."
ADVERTISEMENT
SCROLL TO CONTINUE
Roseburia Intestinalis Exhibits Protein Resembling APS Autoantigen
The researchers searched for a CD4+ Tv cell epitope and the major B cell epitope in the APS autoantigen β2-glycoprotein I (β2GPI) to bacterial proteins in non-redundant protein databases. Candidate sequences were used to identify human commensal gut bacteria with homology to both well-defined autoepitopes. They identified Roseburia intestinalis (R. intestinalis) as a common bacterium that expresses proteins that closely resemble these two epitopes.
Patients with APS who had evidence of immune recognition of R. intestinalis also demonstrated subclinical signs of intestinal inflammation. Human β2GPI-autoreactive lymphocytes and autoantibodies from APS patients cross-reacted with homologous areas expressed by R. intestinalis. Specifically, autoantigen-reactive CD4+ memory T cell clones and an APS-derived monoclonal antibody cross-reacted with epitopes from R. intestinalis.
ADVERTISEMENT
SCROLL TO CONTINUE
Core-sequence-dependent anti-R. intestinalis IgG titers were significantly elevated in APS patients, and correlated with anti-β2GPI IgG autoantibodies. Additionally, the bacterium was identified as a chronic driver of β2GPI autoreactivity in a murine model, demonstrating T and B cell cross reactivity in vivo with progression in APS-prone mice.
Cross-Reactive Triggers: A Potential Risk Factor
"One of the interesting things coming out of our research is that a bug that is beneficial in disease A, can be really bad in disease B," says Dr. Kriegel. "This [finding] is especially true in autoimmune diseases in which the immune system overshoots in different ways depending on the disease. In APS, based on these cross-reactive triggers in R. intestinalis, the presence of R. intestinalis can be a potential risk factor for autoimmune disease, but may have metabolic benefits for gut inflammation. The risk of one autoimmune disease may be related to different aspects of the same bacterium that mitigates another autoimmune disease."