U-S-A! U-S-A! U-S-A! Pardon the patriotic outburst but, watching the U.S.–England match, I was hit by World Cup spirit and relished cheering the Americans on. After rousing victories (and ties) to get to Round 16, the Yanks lost a 2–1 heartbreaker to Ghana. Then the big boys from old Europe took charge, squashing the hopes of Asia and Africa to finally make it to the big dance. Congratulations to Spain on its exciting overtime triumph against the Netherlands.
You Might Also Like
Explore This Issue
October 2010
Also By This Author
World Cup Fever
Soccer is not a game for Americans. Despite the phenomenal athleticism of the players, there is no scoring, with one–nil matches seemingly the norm. That's tough for Americans, who want the scoreboard to light up like fireworks with points from touchdowns, grand slams, and trifectas. Also, the World Cup had to vie for attention this year with the National Basketball Association finals, the U.S. Open at Pebble Beach, Wimbledon, the rise of strikeout whiz Stephen Strasburg (subsequently disabled with a torn ulnar collateral ligament), the Tour de France, and last, but not least, the LeBron free-agency sweepstakes.
ADVERTISEMENT
SCROLL TO CONTINUE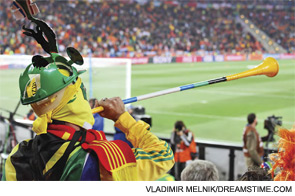 A sports fan supporting his soccer team (or perhaps his Rheumatology World Cup team).
Watching the World Cup matches on television was difficult because of the relentless and unnerving drone from the vuvuzelas. In one venue, the sonic blast reached 144 decibels, enough to threaten the strongest tympanic membrane and make it quiver near disintegration. Commentators said that the sound was like a swarm of giant bees. If not original, that description is certainly accurate. I think that fans of soccer should emulate those of tennis or golf, where a cough, sneeze, or the most subtle visceral noise is anathema.
I have three suggestions for the next World Cup. First, add a shot clock. If, after a reasonable period of time, a team does not shoot on goal, give the opponent one of those free kicks in which a line of players, looking anxious as they shield their private parts, guards the goal. Obviously, a 24-second clock is unrealistic for soccer. How about 10 minutes?
ADVERTISEMENT
SCROLL TO CONTINUE
Second, recycle the vuvuzelas. This year, the World Cup touted its greenness because some teams used uniforms made from recycled plastic. I found that a touch quaint. Given the millions of gallons of gas (a translation for everyone outside the U.S.: liters of petrol) expended flying fans, teams, and the media to and from South Africa, heating hotels, manufacturing vuvuzelas, etc., etc., etc., using recycled material for jerseys will not exactly save the earth.