Overall, the RCR has been an extremely useful and valuable tool for our members, and the ACR has received many positive comments regarding how easy it is to use and how efficient it is in terms of meeting PQRS and e-prescribing requirements, as well as its usefulness in integrating with AIM and performing general quality improvement projects in your practice. However, despite its considerable success, the RCR requires data to be entered separately into this Web-based tool.
The Path Forward
There are plenty of additional needs in rheumatology that a registry can fill, and our organization has made ambitious plans to expand our registry so that it will become a seamless component of our overall health information technology infrastructure. In 2012, the ACR will actively move forward with a pilot of an enhanced version of the RCR, the Rheumatology Informatics System for Effectiveness (RISE). RISE will enable secure access to aggregate data collected through practices' EHR systems to provide a mechanism for practice improvement, meeting external quality-reporting requirements, and making real-world research queries. One key benefit to this enhanced model is that RISE will collect data directly from practice EHR systems, eliminating the need for clinicians or practice staff to manually re-enter data into another database, like the current RCR's Web-based system.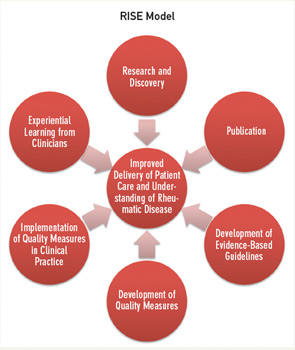 click for large version
Figure 1: Expanded registry enables an integrated approach to clinical practice and research.
The ACR's strategic plan includes strategies to continue to provide members with the necessary tools to be adaptive in an increasingly data-driven environment, advance clinical research opportunities, assist in clinical decision making, and further contribute to quality-improvement efforts, and the RISE model positions the ACR to accomplish these goals (see Figure 1). The next phase of the ACR's registry efforts will achieve those goals in the following ways:
Better Data to Guide Practice Decisions
The mission of advancing rheumatology cannot be fully realized without the ACR providing resources to help members improve clinical practice. While the RCR already provides data that can be used for quality-improvement efforts and that benchmarks your practice against pooled data from rheumatology practices nationwide, the expanded registry efforts will allow users to create custom quality-improvement queries and reports tailored to their practice that can aid in practice-level decision support. Such customized reports will enable rheumatologists and their staff to be more informed about and improve their practice in order to better manage their patient populations.
Enhanced Clinical Research Opportunities
Significant progress has been made in the understanding and treatment of rheumatic diseases; however, there is still much research that needs to be done to enable discoveries in rheumatology that yield better patient outcomes. Although there are pockets of data in rheumatology practices and other registries, there is no comprehensive, centralized network of rheumatology data that can be accessed by the provider community. RISE will serve as an informatics platform to provide researchers access to real-world, systematically collected clinical data from multiple clinical rheumatology sites. The expansion of the ACR's registry efforts will provide a robust network of longitudinal clinical data in rheumatology. Once completed, RISE will help researchers identify clinical data trends, develop hypotheses and assess study feasibility, conduct outcomes and comparative-effectiveness studies, identify cohorts for research studies, and better study treatment patterns and best practices—all with an eye toward improving our understanding and treatment of rheumatic diseases.
Improved Partnerships with Key Stakeholders
As the ACR's registry efforts mature, the data from the registry should inform and empower the ACR and our members when connecting with key external stakeholders. For example, our conversations with policymakers and representatives from influential government entities (e.g., Agency for Healthcare Research and Quality, Food and Drug Administration, National Quality Forum, etc.) will be greatly enhanced by the ready availability of clinical data to support our case that rheumatologists provide tremendous quality and cost-effective care. These efforts will only strengthen the voice of the rheumatology community.