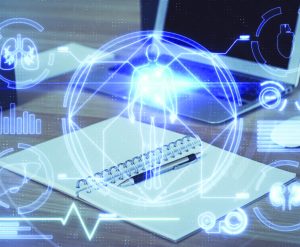 ATLANTA—The ACR's RISE registry continues to grow. Its data are being used in research and quality improvement projects, with plans to make such projects even easier, officials said during the 2019 ACR/ARP Annual Meeting.
Janell Martin, CAE, director of registry operations at the ACR, said RISE, which launched in 2014, now has 375 participating practices, including more than 1,000 providers, with 2 million patients and more than 19 million patient encounters entered into the registry.
ADVERTISEMENT
SCROLL TO CONTINUE
RISE, which stands for Rheumatology Informatics System for Effectiveness, has been helpful to physicians with Merit-Based Incentive Payment System (MIPS) reporting. In 2018, more than 450 providers completed a full MIPS submission using RISE, Ms. Martin said. Of the providers who completed a full submission, all met or exceeded the performance threshold, and 64% of individuals and 71% of groups qualified for the exceptional performance bonus.
RISE is now connected to the Epic electronic health records system. Three templates—for rheumatoid arthritis (RA), lupus and psoriatic arthritis—are available for use in structuring clinical notes to ensure key data points are entered. RISE staff members are in discussions with Epic to implement these templates into its rheumatology modules.
ADVERTISEMENT
SCROLL TO CONTINUE
"The goal for RISE is to improve the quality of patient care," Ms. Martin said.
Quality Improvement & Research
Jinoos Yazdany, MD, MPH, chair of the ACR Committee on Registries and Health Information Technology, said RISE leaders are "reimagining the future of rheumatology," by promoting more interaction among colleagues, boosting quality and improving outcomes. Crowd-source research is also being explored with RISE, allowing rheumatologists to contribute patient data and enabling more powerful research to get done faster.
The RISE Learning Collaborative, an Agency for Healthcare Research and Quality-funded approach, is a way for centers and researchers to team up on projects, she said.
ADVERTISEMENT
SCROLL TO CONTINUE
"We wanted people to define for themselves the type of quality improvement projects they wanted to work on. So this is very much a grassroots effort," Dr. Yazdany said.
Quality improvement projects across centers include a tool to help RA patients better understand their outcomes by sharing what's on their mind at the time of a visit, what they hope to accomplish with treatment and data, such as disease activity scores represented with a temperature scale. Both patients and doctors say they like the tool.
"Doctors really like the tool, because it provides a structure for communication in our RA encounters," she said.
Another project looked at hydroxychloroquine prescribing patterns to see how many patients are prescribed doses generally considered too high, pointing to a need for improved care. "I think that is really the power of RISE—that we can go from data to a quality measurement strategy that's actually meaningful for us as rheumatologists," Dr. Yazdany said.
Another project—GRASP or Genome Research in African American Scleroderma Patients—is attempting to use the RISE network to find potential patients to boost enrollment for this important National Institutes of Health-funded study.
"If this pilot [study] is successful, there will be more opportunities like this to use the power of RISE to conduct research that can advance our field," Dr. Yazdany said.
Gabby Schmajuk, MD, MS, who leads the RISE Data Analytic Center at the University of California, San Francisco (UCSF), said RISE data are uploaded from the practice to the registry each night, with data validation to ensure elements are in the correct fields. Then, the technology vendor does more quality assurance, followed by even more quality review and data cleaning at the data analytic center level. These centers are at UCSF, the University of Alabama, Birmingham, and Duke University, Durham, N.C.
Recently, researchers at UCSF used RISE data to assess prescription patterns among sarcoidosis patients, finding 50% of patients were on a steroid, with 15% on steroid monotherapy and another 15% on prolonged, high-dose steroids.1 Dr. Schmajuk said this indicates the need for disease-modifying agents so patients have choices other than glucocorticoids.
Another RISE project, which is ongoing, involves loading RA clinical data into a deep-learning model to predict flare at a patient's next visit. Model runs using UCSF data have produced promising results.2
How to Access RISE
Katherine Liao, MD, MPH, chair of the ACR's Research and Publications Subcommittee to the Research Committee, described a few paths to access to RISE data for research. When investigators want data for publication purposes, they must complete a request form that is reviewed administratively. Next, there's a full subcommittee review, followed by a notice of approval or rejection. If approved, the project is assigned to a data analytic center.
For requests that are not for publication purposes, such as summary reports, a partial subcommittee review is conducted.
There's also a pathway for investigators who need preliminary data for an initial feasibility study or to build a competitive proposal for more funding. The subcommittee reviews are mainly an assessment of feasibility. "We're trying to determine whether the question is feasible given the RISE data, that the request and study design follow ethical guidance, and—very importantly—that the research question is not too similar to another ongoing or recently published request," she said.
The reviews aren't based on the scientific acceptability, but sometimes, scientific matters can affect the feasibility of a proposal. There is typically at least one back and forth between reviewers, investigators and ACR staff.
The time it takes from when a request is submitted to when a decision is reached and data are made available varies by the response times of investigators to subcommittee feedback and other factors. But generally, it takes "a few months," said Dr. Liao When submitting a request, it helps to be familiar with the process and the RISE data.
"We strongly encourage anyone who's interested in using RISE data to speak with ACR staff," Dr. Liao said.
---
Thomas R. Collins is a freelance writer living in South Florida.
References
Schmajuk G, Kay J, Li J, et al. Patterns of medication use for patients with sarcoidosis: Data from the ACR's RISE Registry (abstract 1119). Arthritis Rheumatol. 2019 Oct;71(suppl 10).
Norgeot B, Glicksberg BS, Trupin L, et al. Assessment of a deep learning model based on electronic health record data to forecast clinical outcomes in patients with rheumatoid arthritis. JAMA Netw Open. 2019 Mar 1;2(3):e190606.