Sen. Blanche Lincoln (D-Ark.) visited the Arthritis Center of the Ozarks in Fayetteville, Ark., in August to speak with local rheumatologist Michael Saitta, MD, to discuss the importance of access to osteoporosis screenings.
You Might Also Like
Explore This Issue
November 2010
Also By This Author
Medicare reimbursement for this crucial preventative service dramatically decreased between 2007 and 2010, resulting in fewer physicians performing dual-energy X-ray absorptiometry (DEXA) scans. As the lead Senate sponsor of the Medicare Fracture Prevention and Osteoporosis Testing Act (S. 769), legislation that would restore Medicare reimbursement for osteoporosis screenings to 2006 levels, Sen. Lincoln is a champion for preserving access to this important service. Dr. Saitta thanked the Senator for her strong leadership in securing a two-year increase in DEXA reimbursement in the healthcare reform law. Dr. Saitta also had the opportunity to discuss other important issues such as the need for a permanent repeal to the Sustainable Growth Rate and passage of the Arthritis Prevention Control and Cure Act (S. 984).
ADVERTISEMENT
SCROLL TO CONTINUE
Avoid prior authorization forms
Remember, you must write the diagnosis and "for Medicare Part D" on the prescription for drugs like methotrexate and prednisone for all Medicare Part D beneficiaries.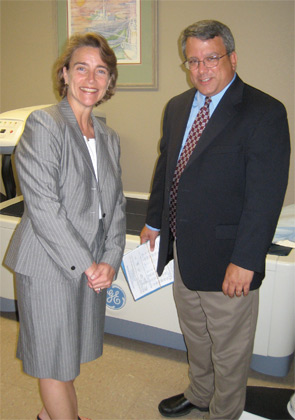 Sen. Lincoln (left) visiting Dr. Saitta on August 9 while she was campaigning in northwestern Arkansas.
Like Dr. Saitta, you, too, can educate Congress on the value of rheumatologic care.
ADVERTISEMENT
SCROLL TO CONTINUE
Most members of Congress are not aware that rheumatologists receive years of additional training to provide specialized care to patients with arthritis and rheumatic conditions. How can we better educate those who develop the health policy that directly affects our profession and our patients? Invite your senators or representative to visit your office. This will provide an opportunity to build a relationship with your members of Congress and educate them on the importance of the rheumatology subspecialty. For help in reaching out to your member of Congress, contact the ACR Advocacy Department at (404) 633-3777 or [email protected].
---
RheumPAC Supports Sen. Lincoln
RheumPAC, the ACR's political action committee, supports Sen. Lincoln in her re-election efforts. To learn more about RheumPAC or to nominate a candidate for RheumPAC support, visit www.rheumatology.org/RhueumPAC.