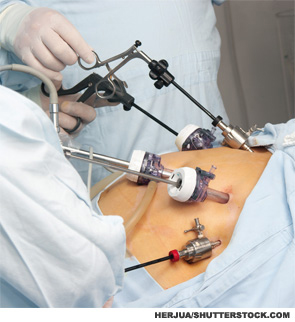 Rheumatology healthcare professionals have all seen postgastric bypass arthritis syndromes, but what if your patient had a gastric bypass after they were diagnosed with rheumatoid arthritis (RA)? Should these patients be treated differently?
Morbid obesity is fast becoming the most common co-morbidity associated with many types of arthritis. One-third of the U.S. population has a body mass index of greater than or equal to 30 kg/m2.1 Two hundred thousand gastric bypass surgeries are performed annually in the U.S.2
ADVERTISEMENT
SCROLL TO CONTINUE
Rheumatology professionals spend much of our day counseling these individuals about diet, exercise and weight loss. We recognize that inflammatory arthritis and obesity further increase the mortality risk from cardiovascular disease in our patients. In addition, obesity may contribute to the development of RA or increase its severity due to the production of proinflammatory cytokines, such as TNF-α, IL-6, leptin, hepcidin and the siderophore, lipocalin-2, and may down-regulate the synthesis and secretion of antiinflammatory adipokines, particularly adiponectin.3,4 Thus, the adipose tissue functions as an organ, leading to a chronic, low-grade inflammatory state, which disturbs the absorption and metabolism of certain nutrients.
ADVERTISEMENT
SCROLL TO CONTINUE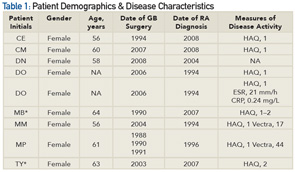 click for large version
CRP = C-reactive protein; ESR = erythrocyte sedimentation rate; GB = gastric bypass; HAQ = Health Assessment Questionnaire; NA = not available; RA = rheumatoid arthritis.

*Patients were ineligible for or were required to discontinue MTX because of suspected liver disease and were, therefore, excluded from the analysis.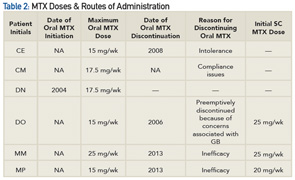 click for large version
GB = gastric bypass; MTX = methotrexate; NA = not available; SC = subcutaneous
Medication Absorption Post Gastric Surgery
Patients who are obese and have a diagnosis of RA who seek gastric bypass as a weight loss option require careful medication selection. Data demonstrate that changes in the physiology of the gut in gastric bypass patients result in malabsorption of many nutrients, such as vitamins A, B12, folate, D, calcium, E, K, zinc, iron and protein.5 Roux en Y procedures, the most common procedure performed in the U.S., is considered both a restrictive and malabsorptive procedure. This surgery reduces the size of the stomach to approximately 15–50 mL, decreasing its absorptive surface.6 Thus, patients undergoing this procedure may experience alterations in medication absorption, such as immunosuppressive drugs. Although there are no well-controlled randomized trials supporting this statement, data from case reports and case series suggest the absorption, first-line metabolism, volume of distribution and half-life of drugs may be substantially altered following bariatric surgery.7 The effects of these changes are drug dependent.