As a young child, Jim O'Dell, MD, spent hours with his grandfather in his basement, making bird houses and bird feeders.
"My grandfather, who was a woodworker, was one of the most influential people in my life," Dr. O'Dell says. "He probably cringed at the crude things I made, but he certainly never let me know it."
ADVERTISEMENT
SCROLL TO CONTINUE
No one, however, is cringing now. Dr. O'Dell, Stokes Shackleford Professor and vice chair in the University of Nebraska Medical Center (UNMC) Department of Internal Medicine, and chief of the UNMC Division of Rheumatology, Omaha, has been perfecting his woodworking skills since those early days. More than likely, he'll retire from his distinguished medical career long before he pounds his last nail into a piece of wood.
"Many of the woodworking projects I've done will be around for a long time and appreciated long after I'm gone," Dr. O'Dell says. "Woodworking gives me a connection to my grandfather, fills a need I have to make things with my hands that have permanence and is a way of letting other people know that they're important in my life."
ADVERTISEMENT
SCROLL TO CONTINUE
Rocking Chairs to Shoe Racks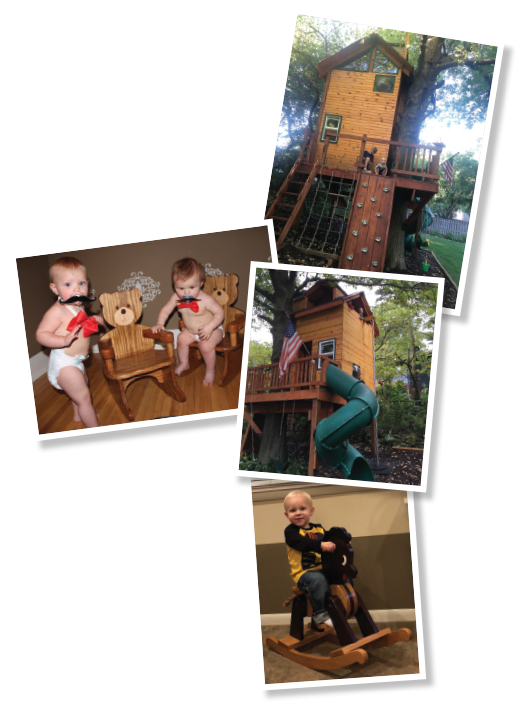 Even while in medical school, Dr. O'Dell built practical items, including bookshelves for his college dorm room. But it wasn't until 1979, after he and his wife started their family, that he truly returned to woodworking.
"I began building rocking horses, miniature kitchens, bear chairs, wooden trains and cribs for dolls," says Dr. O'Dell. "Woodworking is all about having the right tools." At the time, he had a limited number of tools and typically made his children's gifts out of cheap lumber, such as pine. "In some ways, those gifts were more special because I had to create them without a lot of fancy tools or expensive wood," he continues.
Now armed with an assortment of sanders, table saws and drills—he believes woodworkers can never have enough tools—his skills and projects have advanced. He built a deck for his home, a clubhouse in the rafters of his garage with his son and a 200-square-foot workshop that's attached to his garage.
ADVERTISEMENT
SCROLL TO CONTINUE
On a smaller scale, he builds cedar chests and collapsible TV tables made out of oak or walnut for wedding presents. The list of what he builds seems endless: puzzles, jewelry boxes, bookends, deck furniture, doves, Christmas ornaments, hexagon-shaped tables for his son's board game café, and T-stands and shoe racks, also made from wrought iron, for his daughters' clothing boutiques.
While serving as ACR president between 2011 and 2012, he made more than 40 cutting and cheese boards for his executive committee and key ACR staff as thank you gifts. Now it's become an annual tradition to make them for his chief residents and departing fellows. But he no longer uses soft pine. He works with expensive, exotic woods, including bloodwood, zebrawood, African padauk, wenge, cocobolo and purpleheart.
"My time is a lot more valuable now," Dr. O'Dell explains, "so if I'm going to make something, I will make it out of really high-quality and interesting wood."
A 2-Story Tree House
In 2012, when his oldest grandson, Aiden, turned 1, Dr. O'Dell had something very special in mind to build. He decided on a tree house, but not just any tree house. He built one that is two stories, 35 feet high and surrounds a giant oak tree. The main platform, which is nine feet off the ground and 144 square feet, is larger than some people's bedrooms. Another 100 square foot, enclosed section serves as a loft.
Every year, Dr. O'Dell has added elements of fun that are age appropriate for Aiden and Aiden's now 2-year-old brother, Elliott. These include rope ladders, enclosed slides that come off the main deck, swings, a rock-climbing wall, a firefighter's pole, a roof hatch and a trapdoor. This summer, he plans to wire the tree house for electricity. He wouldn't dream of building a modern tree house without electrical outlets and a ceiling fan. He draws the line, however, at indoor plumbing. Someone else will be responsible for those upgrades, he says emphatically.
"The tree house is clearly the largest, most time-intensive project I've done over the years," says Dr. O'Dell, who spends anywhere from 30 minutes to 20 hours a week, both at night and on weekends, building mainly toys and gifts for family, colleagues and friends. "During one weekend in July, my son and I built tables for his café. I probably spent 25 hours on just these four tables."
Peaceful Hobby
The cycle of life continues. Dr. O'Dell now teaches his own grandchildren woodworking. Together, they build birdhouses—similar to those he built with his grandfather—and toys, such as wooden cars and marble runs. Last year, before a family vacation in Colorado, he helped his two oldest grandchildren, Georgie and Aiden, make walking sticks in exotic colors for the entire family.
Part of woodworking's appeal, he says, is the peace and occasional quiet he experiences in his workshop. No one is calling, texting, emailing or banging on his office door for something that needs to be done immediately.
"Woodworking is one way I achieve wellness or balance in life," Dr. O'Dell says. "It's very peaceful to be out in my shop, by myself, doing these kinds of things, working at my own pace and making things for those I love."
---
Carol Patton, a freelance writer based in Las Vegas, Nev., writes the Rheum After 5 column for The Rheumatologist.
Timeline
1977: Completed medical school at UNMC
1977–1980: Finished residency in internal medicine at UNMC
1980–1981: Served as chief resident, Department of Internal Medicine, UNMC
1981–1984: Completed clinical and research fellowship in rheumatology at the University of Colorado Health Sciences Center, Denver
1984–1990: Assistant professor, internal medicine, UNMC Omaha Veterans Affairs Medical Center (VAMC); associate residency program director, Department of Internal Medicine, UNMC
1990–2019: Program director of internal medicine residency at UNMC
1990–present: Chief of rheumatology at UNMC and the Omaha VAMC
1996–present: Professor of internal medicine at UNMC and the Omaha VAMC
2016–present: Stokes Shackleford Professor of Internal Medicine