At the 2016 ACR/ARHP Annual Meeting in Washington, D.C., in November, the ACR and the ARHP honored a group of distinguished individuals who have made significant contributions to rheumatology research, education and patient care. In the November 2016 issue, we reported on the ARHP's awards. This month, we speak with the ACR winners.
Presidential Gold Medal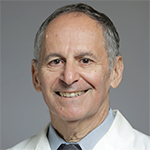 David Pisetsky, MD, PhD
Professor of Medicine and Immunology, Duke University Medical Center, Durham, N.C.; Chief of Rheumatology, Durham Veterans Administration Medical Center
Background: A career focused on the pathogenesis of systemic lupus erythematosus (SLE) and the immunological properties of nuclear macromolecules in other diseases has been very rewarding for Dr. Pisetsky.
He received doctoral and medical degrees from the Albert Einstein College of Medicine in 1972 and 1973, served a clinical associate stint at the National Cancer Institute and from 1996–2007 was chief of rheumatology and immunology at Duke. He received the 2001 Howley Prize from the Arthritis Foundation for his work on the immune properties of DNA; served as the editor of Arthritis & Rheumatology and physician editor of The Rheumatologist; and is now the president of the U.S. Bone and Joint Initiative.