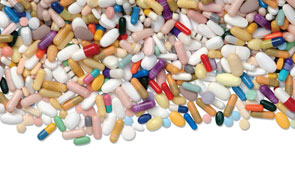 New Drug Information
Belimumab (Benlysta) for the treatment of active, autoantibody-positive systemic lupus erythematosus (SLE) in patients who are receiving standard therapy has received a positive opinion from European regulators recommending its approval.1 Belimumab is administered by intravenous infusion and is the first B-lymphocyte stimulator protein inhibitor to be approved by the U.S. Food and Drug Administration (FDA). The last SLE drugs to be FDA approved were hydroxychloroquine and corticosteroids.
You Might Also Like
Explore This Issue
July 2011
Also By This Author
The FDA has approved a combination, fixed-dose tablet formulation of the nonsteroidal antiinflammatory drug (NSAID) ibuprofen (800 mg) and the histamine-2 receptor blocker famotidine 26.6 mg (Duexis).2 It is approved to treat osteoarthritis (OA) and rheumatoid arthritis (RA) in patients who may be at risk for upper gastrointestinal (GI) ulcers stemming from chronic NSAID use. This formulation was studied in more than 1,500 patients and reduced the incidence of gastric ulcers (GU) and duodenal ulcers over six months. In the Efficacy and Safety Study of HZT-501 in Reducing the Risk of Ibuprofen-Associated Ulcers (REDUCE-1) study, a statistically significant reduction in the incidence of GU was seen with this formulation compared with ibuprofen monotherapy (8.7% vs. 17.6%). In the REDUCE-2 study, the combination product had a statistically significant reduction in the incidence of upper GI ulcers compared with ibuprofen monotherapy (10.5% vs. 20.0%). Taking a product such as this tends to be more costly because the individual ingredients are available as generics. Perhaps that is why this formulation has an unconventional famotidine dose (compared with 10 mg, 20 mg, or 40 mg, which are already available on the market). Using the individual generic agents may be more beneficial and less costly in at-risk patients.
ADVERTISEMENT
SCROLL TO CONTINUE
Ketorolac tromethamine nasal spray (Sprix) is now available for the treatment of moderate to moderately severe pain that requires an opioid-like analgesia.3 This new formulation of ketorolac is available as a single-day nasal spray bottle that delivers 15.75 mg of ketorolac per spray (in 100µL). Each 1.7-gm bottle contains eight sprays. For adults younger than 65 years, the recommended dose is one 15.75-mg spray in each nostril (31.5 mg) every six to eight hours for a maximum daily dose of 126 mg.4 For patients age 65 years and older, those that have renal impairment, and those that weigh less than 50 kg, the recommended dose is one 15.75-mg spray in one nostril every six to eight hours (the maximum dose is 63 mg). This ketorolac formulation has the same contraindications and warnings as other ketorolac products. The bottle should be discarded 24 hours after taking the first dose.