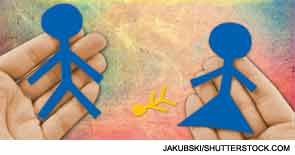 A physician is free to choose whom to treat (in nonemergency situations), but once a patient–physician relationship has been established, the physician is obligated to provide the patient with consistent, ongoing care as needed.

Dealing with a difficult patient is a common problem in a medical setting. In a study of 449 general internists, difficult patients are considered to be those patients with mental health problems, patients with multiple somatic complaints, and patients with threatening or abrasive personalities.1 Many strategies are proposed to deal with these difficult patients. In the event that the difficulties cannot be resolved, then termination of the patient–physician relationship will be a last resort.2
ADVERTISEMENT
SCROLL TO CONTINUE
The problem in the practice of pediatrics is that, in addition to the patient, there is the presence of a parent/guardian, who is often the one involved in the difficult encounter. In this instance, dealing with the "difficult parent" poses additional ethical consideration.
The Case
Practicing in a midwestern city, you are the only pediatric rheumatologist in the region. A six-year-old child presents in your office with a history of fever and polyarthritis. Your evaluation indicates that the patient has a classic presentation of systemic juvenile idiopathic arthritis.
ADVERTISEMENT
SCROLL TO CONTINUE
Furthermore, you learn from your pediatric rheumatology colleague 200 miles away that the patient was treated there, and that the parents were uncooperative, questioning and then ignoring her recommendations. You also find that the parents have an antagonistic attitude towards you and are abusive to your staff; they repeatedly used unacceptable language in the reception area, and their behavior has produced considerable disruption of the office environment. Nonetheless, after considerable consultation, you manage to formulate a treatment plan that the parents agree to follow.
Unfortunately, the patient does not respond well to treatment, and more intensive therapy is required and recommended. Throughout this process, the parents have become increasingly belligerent at follow-up visits, demonstrating similar patterns of abusive behavior, often in the waiting area, thus in front of other waiting patients and their families. Finally, after a particularly unpleasant office visit, your nurse comes to you complaining strongly about this family and refuses to work with the parents in the future.
This case raises the following issues:
ADVERTISEMENT
SCROLL TO CONTINUE
How do you manage a parent or family that is disruptive to your practice?
Should you terminate care, and thus put this child's health and well-being in jeopardy?
What are the options, other than discontinuing care?
Difficult Encounters
Physicians have difficult encounters with their patients frequently; it is estimated that one of six encounters belongs to this category.3,4,5 The literature pertaining to the problem of the disruptive patient is largely based on the adult population, with very little commentary from the pediatric setting. However, pediatricians and pediatric rheumatologists face similar challenges to their colleagues in adult medicine. What sets them slightly apart is that often the parents/guardians are contributors, if not primarily responsible, for the difficult encounters.