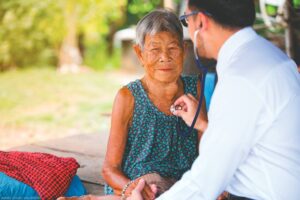 A common case scenario in our practice in North Dakota is a woman with rheumatoid arthritis on methotrexate monotherapy. She is a member of the Sisseton Wahpeton Oyate people and lives 90 miles from our rheumatology clinic. She currently has moderate disease activity, indicating the need for additional treatment. She does not have her own vehicle, but a family member has generally been able to drive her to appointments at six-month intervals. Increasing the frequency of appointments is likely to be challenging. She does have a cellular telephone, but does not have access to fixed broadband service in her home.
This scenario illustrates several challenges in the provision of effective and equitable rheumatologic care for our patients, including the rural location, transportation limitations and healthcare inequity.
As rheumatologists, we have an ethical obligation to address the barriers that exist to equitable care for our patients. In the next few paragraphs, we outline current challenges to care for rural and Indigenous peoples and discuss strategies to address these barriers.
Rural Health Challenges
Access to healthcare in rural areas is progressively contracting. As of early 2023, 124 rural hospitals had closed their doors over the past 17 years and an additional 425 rural hospitals are financially vulnerable, based on a 2020 report by the Chartis Group.1
In rheumatology, projections estimate a shortage of 4,100 rheumatologists, with demand exceeding supply by 102% in 2030, and disproportionate effects expected in rural areas.2
Patients in rural areas face the challenges of increased travel time and associated costs, including time away from work to attend appointments. Additionally, rural patients are more likely to be managed by a non-rheumatologist, with associated diagnosis delays and higher use of corticosteroids.3
Although efforts are ongoing to improve access to technology, such as broadband internet, the digital divide remains a significant barrier for telemedicine services in rural areas.4 Rural populations tend to be older, and the lower technological literacy associated with that population can further exacerbate this digital divide.
Indigenous Patients
The Centers for Disease Control and Prevention (CDC) defines health disparities as "preventable differences in the burden of disease, injury, violence, or opportunities to achieve optimal health that are experienced by socially disadvantaged populations."5
For American Indian and Alaska Native (AI/AN) patients, not only are there issues with transportation and broadband access, but also systemic disparities in diagnosis and manifestations of rheumatoid arthritis. Many AI/AN patients, such as the Cree/Ojibwe, Pima and Chippewa people, have a prevalence of rheumatoid arthritis at around 2–3%, near the highest prevalence worldwide, and linked to the prevalence of HLA-DRB1*1402.6 Other tribes have increased prevalence of HLA-B27 and associated spondyloarthropathies.7 Studies have shown that AI/AN patients not only present with severe RA, but also carry multiple poor outcome risk factors.6