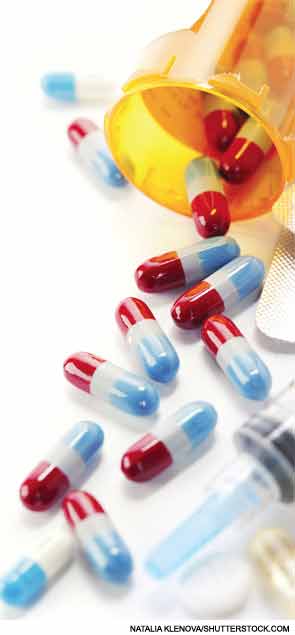 NSAIDs, TNF inhibiotrs, and biologics may all be important treatments for spondylarthropies.
MADRID—Nonsteroidal antiinflammatory drugs (NSAIDs) might still have a role in the treatment of axial spondylarthritis, an expert said here at the European League Against Rheumatism (EULAR) 2013 Annual European Congress of Rheumatology, held June 12–15. But other drugs are quickly being explored, with the understanding of the effectiveness of tumor necrosis factor (TNF) inhibitors, as well as other biologics, expanding all the time, others said.
You Might Also Like
Explore This Issue
September 2013
Also By This Author
Role of NSAIDs
Nigil Haroon, MD, PhD, assistant professor of rheumatology at the University of Toronto, said the recent INFAST trial suggests that there might be a role for NSAIDs early in the treatment of patients with ankylosing spondylitis (AS).
ADVERTISEMENT
SCROLL TO CONTINUE
Early AS patients—with an average disease duration less than two years, and who had not been on a maximal dose of an NSAID previously—were given either both naproxen and infliximab or naproxen and placebo. Their infusions were stopped at 24 weeks and response was assessed after 28 weeks.1
Researchers found that 62% of the patients were in partial remission in the naproxen–infliximab group, compared to about 35% of the naproxen–placebo group. Dr. Haroon noted that the remission rate in the naproxen–placebo group was relatively high.
ADVERTISEMENT
SCROLL TO CONTINUE
"Maybe by diagnosing and treating these patients early, we may get significant benefit just from antiinflammatories alone," Dr. Haroon said.
Dr. Haroon pointed to a 2005 study as most compelling on the disease-modifying potential of NSAIDs. Those on a continuous dose of NSAIDs showed significantly less radiographic progression than those taking NSAIDs as needed.2
Further analysis showed that the difference between the groups was limited to those with elevated C-reactive protein (CRP) at baseline. "If you have a predictor of progression (high CRP or syndesmophytes on X-ray) right at the beginning, then you're more likely to respond with antiinflammatories, and progress less," Dr. Haroon said. Researchers have also found that the lower the dose, the more likely patients are to progress.
ADVERTISEMENT
SCROLL TO CONTINUE
There seems to be a biologic basis for this disease-modifying potential of NSAIDs. Bone density and osteoblastic activity have been shown to be impaired by systemic NSAID application in a mouse model.3 But, he said, the NSAID effect was not replicated in a large study led by Dr. Haroon, with participating centers from Canada and the U.S.
Another factor that can't be ignored, he said, is cost, which is "a big advantage for naproxen."
"That's something you should always consider when you come up with guidelines and treatment recommendations," he said.