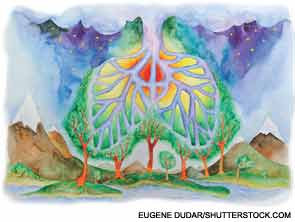 Some research indicates that the roots of RA may be found in the lung.
MADRID—Prevention is the ultimate goal with any disease, including rheumatoid arthritis (RA), and researchers here at the European League Against Rheumatism (EULAR) 2013 Annual European Congress of Rheumatology, held June 12–15, presented cutting-edge work aimed at that end, with projects from identifying who is most at risk to potential ways to intervene and prevent onset.
Prevention as a bona fide topic in itself represents progress, although Dirkjan van Schaardenburg, MD, PhD—who chaired the session and is professor of rheumatology at Jan van Breemen Research Institute in Amsterdam—said answering these questions will require a lot more work. "There are many more answers to be found for the questions," he said.