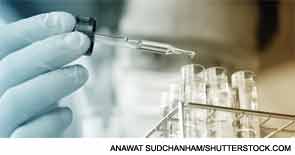 PARIS, FRANCE—In the first phase 3 results on sarilumab—the first fully human monoclonal antibody directed to the interleukin (IL)-6 receptor—patients taking the drug and methotrexate performed significantly better than methotrexate alone in a variety of areas, researchers said at the Annual European Congress of Rheumatology (EULAR 2014) in June.
The results, the first in a slate of ongoing phase 3 trials on sarilumab, were part of a series of findings unveiled in a session on non-tumor necrosis factor (TNF) biologics.
Mark Genovese, MD, professor of immunology and rheumatology at Stanford University, Palo Alto, Calif., presented the findings. The trial was sponsored by Sanofi and Regeneron Pharmaceuticals Inc.

Dr. Genovese
The 52-week international trial, called SARIL-RA-MOBILITY, enrolled 1,197 patients with moderate-to-severe rheumatoid arthritis (RA) who had not responded adequately to methotrexate. They were randomized to receive, every other week, 150 mg of sarilumab plus methotrexate, 200 mg of sarilumab plus methotrexate, or a placebo and methotrexate.
"[With] both doses of sarilumab, with methotrexate as a background agent, we're able to show clinically relevant improvements, as well as statistically significant outcomes," Dr. Genovese said.
At 24 weeks, 58% of the 150 mg group had achieved ACR20 (a 20% improvement over baseline), as had 66% of the 200 mg group and 33% in the placebo group. At 16 weeks, the two treatment groups experienced more improvement over patients in the placebo group on the Health Assessment Questionnaire Disability Index, a measurement of physical function. And at 52 weeks, there was greater inhibition of structural progression in the sarilumab groups, compared with placebo. These were all statistically significant results.
There were more treatment-emergent adverse events in the sarilumab groups—321 in the 150 mg group, 331 in the 200 mg group and 263 in the placebo group. Fifty-nine patients discontinued treatment because of adverse events in the 200 mg group, and 54 did so in the 150 mg group, compared with 20 in the placebo group.
Abatacept & Drug-Free Withdrawal
Another study found that for patients with highly active early RA and a poor prognosis, abatacept and methotrexate led to significantly higher rates of remission over just methotrexate at 12 months. And a small—but significantly higher—number of patients treated with abatacept plus methotrexate stayed in drug-free remission compared to those who'd only been on methotrexate, said Paul Emery, MD, professor of rheumatology at the University of Leeds, West Yorkshire, England.

Dr. Emery
In the AVERT study, a total of 351 anti-CCP-2-positive, methotrexate-naive patients were randomized to 125 mg of abatacept plus methotrexate, abatacept alone or methotrexate alone. At 12 months, 60.9%, 42.5% and 45.2% had achieved DAS28 scores of less than 2.6 in the abatacept plus methotrexate, abatacept alone and methotrexate alone groups, respectively. The safety and efficacy of abatacept in these patients have been previously published.1