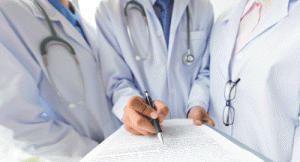 As yet, there is insufficient evidence to determine whether the new wave of anticoagulant medications is safe for use in patients with antiphospholipid syndrome (APS), says one expert.
You Might Also Like
Also By This Author
According to Michael Lockshin, MD, director of the Barbara Volcker Center for Women and Rheumatic Disease at the Hospital for Special Surgery in New York, although alternatives to warfarin have attracted attention, there is lack of an evidence base to support their use in patients with APS.
ADVERTISEMENT
SCROLL TO CONTINUE
"We've seen a tendency for people to start using these new drugs, possibly because they're more convenient than the older ways of anticoagulating. But in this moment, if anything, the signals are that they do not work in antiphospholipid [syndrome], but we're waiting for formal studies," Dr. Lockshin says in a question and answer interview with The Rheumatologist.
Question: Do you want rheumatologists to keep APS in mind?
Answer: Yes. Unequivocally. An issue with [APS] is that, in places in which there is not a recognized expertise, usually the hematologists will take over the care, because it is basically a clotting problem. … So when I talk about the use of the newer anticoagulants, the recommendations have come, mostly, from a hematologist who thinks, "Oh, I can use this for atrial fibrillation, so why can't I use it in this disease?" They never ask: "Is it the same disease as the other clotting diseases that I'm dealing with?"
ADVERTISEMENT
SCROLL TO CONTINUE
Q: How do you combat that approach?
A: Information. Making this [disease] as widely known as possible. Things that we routinely see, that are errors, are casually discontinuing anticoagulation for purposes of doing a test, for instance, a cardiac cath or doing a minor surgery. … You can't causally discontinue anticoagulation in these patients, even though you can in someone with one of the other types of clotting disorders. So the biggest error I see—and I get this again in referral practice—is someone [assuming], "Oh, it's like other clotting disorders, so the rules that apply to those other clotting disorders also apply to [APS]." And they don't. The [APS] patients are much more dangerous to handle.
Q: In terms of that danger, what do you recommend to somebody who is not used to dealing with APS? What is the best practice to move forward?
A: Talk to someone who's got a lot of experience with the disease. I get telephone calls and emails at least every week from somewhere—pretty much anywhere in the world—asking, "How do I handle such a thing?" I think all of my colleagues are used to getting those. It's not hard to get information. If you don't know the disease well, there are a lot of people who are willing to help.