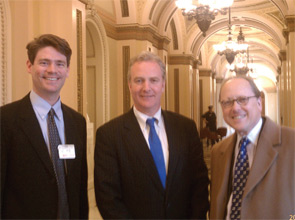 Pictured right to left are Herbert S. B. Baraf, MD, Congressman Chris Van Hollen (MD-08), and fellow ACR advocate, Angus Worthing, MD.
I am passionate about being a rheumatologist and the opportunity I have to help my patients, but the care we provide our patients does not exist in a vacuum. That care occurs in our offices and is heavily influenced by laws and regulations that flow from Congress and the Centers for Medicare and Medicaid Services (CMS). At times the lack of Congressional action on the broken Medicare physician payment system, the loss of consultation codes, the fall in DEXA reimbursement and the "otherworldly" expectations for electronic medical record implementation can be downright discouraging. But we must remember that we are not helpless in matters related to health policy.
The change that we desire and need is possible in Washington, D.C. To get that change requires that we be active, visible, vocal, and focused and that we express our point of view passionately where it will do the most good—in the halls of Congress. I am optimistic we can turn the corner on issues affecting rheumatology, but it will take the action and involvement of rheumatologists—young and old—to improve the state of our profession.
I have been visiting Capitol Hill with the ACR for the past four years. I find this to be the best way to share my thoughts with policymakers on current issues affecting my practice and my patients. These visits allow me to directly advocate for ways to improve healthcare delivery for patients with arthritis and rheumatic diseases, adequate reimbursement for cognitive specialists, and relief from burdensome regulations. What I have begun to notice is that my legislators and their staff are getting to know me and rheumatology—and our issues.
As a member of the RheumPAC committee, I am on Capitol Hill at least twice a year, and always in September during the annual Advocates for Arthritis conference. Whether you are a beginner or an experienced advocate, Advocates for Arthritis is a great way to get involved with the ACR's advocacy efforts. It is a two-day event comprising legislative and regulatory speakers, advocacy training, and congressional visits.
In addition to bringing rheumatologists and health professionals to Capitol Hill, Advocates for Arthritis encourages patient advocates to attend. Patients play a key role in our efforts, as they have personal stories about struggles with cost sharing for biologics, insurance denials, and how the care provided by a rheumatologist has changed their lives.