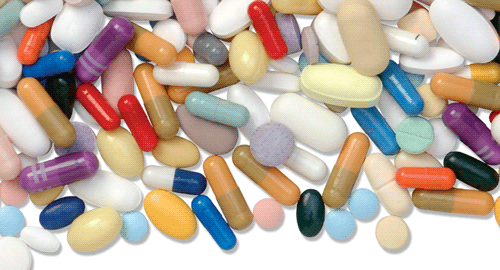 The U.S. Food and Drug Administration (FDA) is considering a new drug application for FX006 for treating pain in patients with knee osteoarthritis (OA). The agency is also revisiting the labeling of medications containing pioglitazone, which has been linked to bladder cancer. And new labeling for the HIV drug Genvoya will remove warnings regarding bone loss.
New Drug Application for FX006 with FDA
A new drug application has been submitted to the FDA for FX006 (Zilretta), a long-acting steroid injection for knee OA.1 The treatment combines triamcinolone acetonide (TCA) in a polymer to provide longer lasting pain relief.
ADVERTISEMENT
SCROLL TO CONTINUE
In a Phase 3 trial, patients who received FX006 reported about half of the pain level on average compared with placebo-treated patients through 12 weeks.2 This study was a Phase 3, randomized, double-blind, placebo-controlled, active-comparator trial. Efficacy was assessed in 484 patients at four-week intervals over 24 weeks. The primary trial endpoint was pain reduction assessed by the weekly mean of the average pain score for active comparator compared with placebo, which was achieved by FX006 (P<0.0001).
The treatment also achieved statistically significant improvements in WOMAC A (pain), B (stiffness) and C (function) at Weeks 4, 8 and 12 compared with placebo and immediate-release TCA (P<0.05). Efficacy by Knee Injury and Osteoarthritis Outcome Score quality of life at four-week intervals over 24 weeks was also achieved by FX006.
ADVERTISEMENT
SCROLL TO CONTINUE
Adverse events were mild and balanced across treatment and placebo study arms. No serious adverse events occurred.
Pioglitazone Linked to Bladder Cancer Risk
In September 2010 and June 2011, based on interim results from a 10-year epidemiologic study, the public and medical communities were alerted to the possible risk of bladder cancer from the use of medications containing pioglitazone. Label changes occurred in August 2011 to include this risk. At the time, manufacturers were required to continue the study. Now as a result of an updated review, the FDA has concluded that the use of medications containing pioglitazone (e.g., Actos, Actoplus Met, Actoplus Met XR, Duetact, Oseni) may have an increased risk of bladder cancer.3
The FDA reviewed published epidemiological studies evaluating the risk of bladder cancer with pioglitazone use. Some studies found an increased risk of bladder cancer with using pioglitazone, while others did not. The labeling for pioglitazone-containing medicines will be updated to include additional studies that describe the risk.
ADVERTISEMENT
SCROLL TO CONTINUE
Patients should be informed to contact their healthcare professionals if they experience any of the following signs or symptoms, which may be due to bladder cancer, after starting pioglitazone: blood or red colored urine, urination pain, and/or a new or worsening urge to urinate. Healthcare providers should not proscribe pioglitazone for patients with active bladder cancer. Additionally, the use of medications containing pioglitazone in patients with a history of bladder cancer should be weighed carefully before being prescribed.