An eye-popping 2007 McKinsey & Company study documents the relative cost of hip and knee replacement surgeries for five countries. In 2004, U.S. doctors performed just over half as many hip replacements per 100,000 people as their German counterparts. Yet the cost of each hip prosthetic averaged more than $4,800 per patient in the U.S.—four times higher than the $1,200 cost in Germany and the $1,400 cost in the United Kingdom.
Part of this difference, Schoen says, is due to supply chain management and involving doctors in the decision-making process. Many countries (and a few integrated health systems in the U.S.) are asking surgeons to help select just one or two prosthetic implants, negotiate for bulk volume pricing, and then track the clinical outcomes of those devices to flag poor performers, she says.
ADVERTISEMENT
SCROLL TO CONTINUE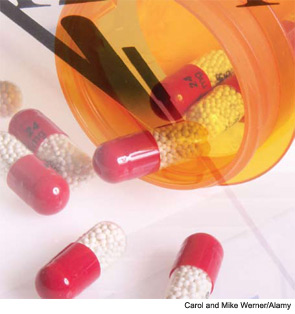 In 2008, the U.S. spent roughly $7,500 per person on healthcare, an astonishing 50% more than the next closest country: Norway.
Setting the Bar for New Drugs
Drugs are another big-ticket item, and the U.S. pays almost twice as much per capita as the OECD average. To keep their prices lower, Schoen says, many European countries have information systems that track the relative clinical effectiveness of pharmaceuticals. "And they're using it to inform the way they cover drugs: not to exclude them from the list of what's covered, but to do something in Europe that's called 'reference pricing,' " she adds.
Let's say a new drug costs 50% more than an older one with roughly equivalent efficacy. Under reference pricing, a doctor can still prescribe the new drug, but the patient must pay all or most of the difference. Such benchmarking has fueled an interesting dynamic. "The brand names that are coming in and want to get some market share will price themselves lower, because if they're priced really high compared to the reference price, the chances are they just won't ever get a market share," Schoen says. As a result, drug prices stay lower.
ADVERTISEMENT
SCROLL TO CONTINUE
The concept, although discussed in the U.S., has yet to be widely implemented here. A new study in the April issue of the Journal of Managed Care Pharmacy, however, could cause some cash-strapped governments to take a closer look.1 In the study, the Arkansas State Employee Health Plan used reference pricing for proton-pump inhibitors, using the cost of generic omeprazole as its reference point. Over the 43-month reference-pricing period, net plan costs for the drugs dropped by 49.5% per member per month.

The numbers suggest that the tests ordered, the drugs prescribed, the devices implanted, and other medical services offered are driving up costs.
Patient Feedback
A third lesson is that constructive feedback on quality can improve performance, even if no money is attached to outcomes. Like the U.S., Germany is placing a high priority on metrics that evaluate hospital quality. Schoen says the German performance improvement initiative is identifying outliers and providing them with feedback and technical support, but it is not built into the payment system. "They've had pretty rapid improvement out of that," she says, "and I would say we're learning the same thing in the U.S."