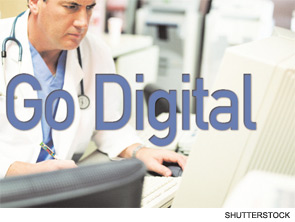 Kent W. Blakely, MD, was at the airport working on charts during a layover when a patient called seeking a refill on a narcotic prescription.
He knew that the patient, calling on a weekend, expected to speak with someone who didn't have access to medical files.
"I said, 'Let me pull up your record here,' " recalls Dr. Blakely. "You could hear a pin drop in the background. I said, 'You didn't make your appointments for the last three times and you're really not due to get any more.' What a great tool this is!"
Dr. Blakely, a rheumatologist in private practice in Kearney, Neb., is referring to his electronic medical record system or EMR—an approach to recording patient data that being adopted by rheumatologists across the country.
Jump Into EMR Adoption
For many practices, the start-up phase is the most challenging part of adopting an EMR. Herbert S.B. Baraf, MD, expects the EMR system that his 11-physician rheumatology group in Wheaton, Md., is installing to go live in June; that is about six months later than originally planned—and after more than a year's worth of installation, training, practice redesign, and unexpected costs.
"Anyone who looks at this as a plug-and-play purchase doesn't understand it," says Dr. Baraf. "This is a very complicated thing and it requires physicians to roll their sleeves up and jump in."
Dr. Blakely, who began using the EMR when he opened a new solo practice in January 2006, says that, by the end of the first month, his nurses were in tears. Richard H. Blau, MD, a rheumatologist with a private practice on Long Island, N.Y., can relate. He had installed an EMR system in 2003 as one step to a paperless office.
"This is not easy. It's not painless either," he says. "Each time I added a new software module, such as a document manager or computerized fax, my staff was initially skeptical. However, after a week of use and a little training, they all were able to appreciate the benefits of the new programs."
Thus, Dr. Blau sides with others who make it to the other side of the EMR adoption mountain and report a beautiful view.
Bits, Bytes, and Benefits
Mark L. Robbins, MD, MPH, has been using an EMR for nearly 15 years at Harvard Vanguard Medical Associates, a 600-member multispecialty group in the Boston area. The system's top benefits include better communication and coordination among physicians treating a patient and the ability to track trends—such as lab results—to pick up subtle changes in a patient's condition.