Last year, in Texas, they had no room to breathe.
You Might Also Like
Explore This Issue
January 2022
Also By This Author
Texas has 301 designated trauma centers equipped to provide intensive care, 200 of which can care for at least four critically ill patients. In August 2021, 75 of these hospitals reported having no available beds in their intensive care units. Zero. This was due, in large part, to SARS-CoV-2; many of these beds were occupied by more than 9,400 patients suffering from life-threatening complications of COVID-19.1
ADVERTISEMENT
SCROLL TO CONTINUE
In Texas, the statewide annual occupancy rate for hospital beds hovers around 60%; last year, it peaked at 87%. Physicians and health professionals across the state delivered heroic care in hallways, parking lots and ambulances, as they scrambled to transfer patients to states as far away as Utah, Colorado and North Dakota.2 Meta­phorically, it is definitely accurate to say that in the state of Texas, they couldn't catch their breath. But it was also true literally. Last year, Texas started to run out of oxygen.
Prior to last year, this would have been inconceivable. But then, India happened.
ADVERTISEMENT
SCROLL TO CONTINUE
On April 22, 2021, 25 patients died in Sir Ganga Ram, one of the largest private hospitals in New Delhi. All 25 were critically ill from COVID-19. All 25 were dependent on high-flow oxygen to support their lung function. All 25 expired when the hospital's supply of oxygen was exhausted.3
All 25 suffocated to death.
It would have been easy to dismiss this as happenstance, a tragic but rare con­fluence of events. Except it wasn't. Two days later, 20 more patients died in another large hospital in Delhi when it, too, had depleted its oxygen reserves. In hospital after hospital across Delhi, variations on the same theme played out. Some hospitals turned to Twitter to beg for additional resources. Others simply stopped admitting patients, knowing they could not provide them with care.4
ADVERTISEMENT
SCROLL TO CONTINUE
Delhi had run out of oxygen.
It would have been easy to dismiss this as something that could only happen over there. Except it wasn't. In August 2021, hospitals in Florida, South Carolina, Louisiana and Texas all reported that oxygen had become a scarce resource. Donna Cross, senior director of facilities and construction for Premier, a health care performance improvement company, commented:5
Multiple bottlenecks exist in oxygen delivery that one might never notice in a typical year. Even if we could dramatically increase the production of oxygen, our ability to deliver that oxygen to hospitals in need is still limited.
Normally, an oxygen tank would be about 90% full and suppliers would let them get down to a refill level of 30–40% left in their tank, giving them a three- to five-day cushion of supply. What's happening now is that hospitals are running down to about 10–20%, which is a one- to two-day supply on hand, before they're getting backfilled [to about 50% capacity].
Oxygen comprises 21% of the earth's atmosphere. How did hospitals run out of this essential resource?
The Science of Oxygen
No one actually manufactures oxygen. Existing technologies use one of two methods to distill oxygen from the air, using basic principles you might have learned in your college chemistry class:6
Pressure swing adsorption (PSA): PSA forms the basis of nitrogen scrubbers, which are used to selectively remove nitrogen from the air, leaving behind almost pure oxygen (along with a trivial amount of other gases, such as carbon dioxide, neon and hydrogen). PSA units accomplish this by using zeolites, aluminosilicate crystals that can preferentially bind specific compounds, allowing them to function as a molecular sieve. At high pressure, zeolite 13x adsorbs nitrogen from the air, leaving behind breathable oxygen. When the zeolite has had its fill, lowering the pressure allows it to release nitrogen back into the atmosphere, like squeezing water out of a sponge so it can be used again.
Cryogenic distillation: Elements enter the liquid state at different temperatures. Cryogenic distillation takes advantage of that fact. In this process, ambient air is cooled and compressed. Oxygen liquefies before nitrogen; at that point, oxygen can be siphoned and stored in tanks, ready to be shipped to healthcare facilities.
These are ancient technologies. The properties of zeolites were described in the 18th century. Zeolites were first used to concentrate oxygen in the 1970s. Cryogenic distillation was developed by Carl von Linde in 1895 and was used commercially for the first time in 1902.7 Since then, advances have been made, but the basic science underlying the oxygen industry has remained static for well over half a century.
As foreshadowed by the use of the phrase ancient technologies, each method of oxygen concentration has its drawbacks.
PSA units are predominantly used for the portable oxygen concentrators used by our patients when they are discharged from the hospital. For the individual patient, these units can be literal lifesavers. The problem is that they are difficult to scale up. Some large institutions may have their own PSA plants, which allow them to supply oxygen to many patients simultaneously. These plants, however, require a large initial investment—not to mention enormous amounts of electricity—which makes this option prohibitive for most.
Cryogenic distillation is the technology of choice for commercial oxygen distillation, but this process is also complex. Before oxygen can be distilled from the air, water vapor and carbon dioxide must first be removed, in sequence, so they don't freeze in the pipes as the air is compressed. The final product must also be purified, so it is appropriate for medical use.
Pandemic Problems
As the survivors of this past holiday season know, the mantra was buy everything, immediately.
Commentators warned us not to wait for seasonal sales. Everything was expected to go out of stock. The culprit? The supply chain, which is the all-encompassing phrase used to describe the flow of goods and services from the manufacturer to beneath your Christmas tree.
Many of the supply chain delays were due to the docks. As I write, 57 container ships circle the Port of Los Angeles. Each container ship carries cargo equivalent to a 44 mile-long freight train.8 These 57 cargo ships can't leave because there is no room at the port for them to discharge their cargo.
As is true for everything in life nowadays, the reason for the logjam is multifactorial. First, there is a shortage of truckers.9 When truckers arrive, they often can't access their cargo, which is stacked behind many other containers that first must be moved, as if in a super-sized game of Tetris. The ships that do manage to discharge their cargo often leave empty handed. In the past, they would fill up on containers to take back to Asia. Now, it is more lucrative for them to leave Los Angeles as quickly as possible, to pick up another round of expensive electronics headed for American shores.10
None of this would be a problem if it weren't for our just-in-time economy. Pioneered by Japan in the 1970s, just in time describes a management strategy in which goods are manufactured and shipped only as they are needed, so funds are not spent housing stockpiles. When supply and demand are predictable, lean manufacturing saves money. But during a pandemic, what has been predictable?
Just-in-time management strategies have played a large role in all the shortages we have experienced during the pandemic, from toilet paper to N95 masks. When there was an emergency, stockpiles could not be tapped because there were no stockpiles.
The same strategy has contributed to the oxygen shortage. We have created a system that manufactures and distributes precisely the amount of oxygen we require in an average year. When the demand stretches suddenly beyond average, however, there is no easy way to ramp up production.
Moreover, multiple bottlenecks exist in oxygen delivery that one might never notice in a typical year. Even if we could dramatically increase the production of oxygen, our ability to deliver that oxygen to hospitals in need is still limited.
The same shortage of truckers that has left shipping containers abandoned at the Los Angeles dock also affects our ability to transport oxygen. Liquid oxygen is transported in cryogenic tanker trucks. And, of course, concentrated oxygen has a nasty habit of exploding. It takes a special type of driver, experienced with both tankers and hazardous materials, to handle these vehicles. Not surprisingly, many truckers would rather transport something less volatile.
Even if more oxygen could be reliably delivered to hospitals, many hospitals lack the infrastructure to deal with the increased flow rates. Liquid oxygen is stored at –297.3°F. As more oxygen is pushed through aging pipes to an ever-growing population of patients, the increased flow freezes the pipes.11
Infrastructure Issues
The problem with infrastructure is that no one cares about it until you hit a pothole. Or you turn on a spigot, and nothing comes out. Or YouTube keeps buffering because the internet is slow. Or your patient can't get oxygen.
The infrastructure that supports the delivery of oxygen has been ready to burst for years; the pandemic merely made the cracks in the dam more apparent.
The problem has been most apparent in resource-poor countries, which have had just enough capacity to produce and deliver oxygen to keep going during a typical year. But the past few years have been anything but typical. As demand for oxygen increased dramatically, an already strained infrastructure had no capacity to grow.
The problem would have been even more apparent in the U.S., if it were not for the fact that commercial oxygen comes in two forms. Medical oxygen is destined for healthcare. Industrial oxygen is a less pure product that is used in manufacturing. In industry, oxygen is used as a catalyst for specific chemical reactions or combustion. The steel industry is the largest user of industrial oxygen, but it is also used in welding and bleaching and the manufacture of glass and pharmaceuticals.12 When the shortage of medical oxygen in the U.S. became apparent, manufacturers of industrial oxygen were able to redirect some of their capacity to produce medical oxygen.
This diversion, however, has come at a cost. Most famously, Gwynne Shotwell, president of SpaceX, announced that its launch schedule will be delayed because the company has been unable to secure an adequate supply of liquid oxygen. While no one weeps for Elon Musk, the shortage has driven up the cost of industrial oxygen, leading to increased manufacturing costs and canceled projects.13
At the end of the day, these experiences highlight the importance of investing in our future. Infrastructure projects are not at the top of anyone's wish list. By definition, they are unexciting, and therefore, they have few champions. That said, these projects are vital to the lives we lead. Investments in infrastructure ensure that our bridges don't fall apart, our electrical grid doesn't collapse in the next snowstorm, and we have reliable ways to transport oxygen to areas in need.
We also need to acknowledge that just-in-time strategies have no place in healthcare. It's not reasonable to ask a patient to wait patiently because we don't have a reserve supply of masks or gowns. It's also not reasonable to ask patients to take shallow breaths because we lack the infrastructure to deliver the oxygen they need. Lean manufacturing may maximize profits, but given the stakes in healthcare, we need a little more fat in our infrastructure. Because as the pandemic has taught us, we all could use just a little more room to breathe.
---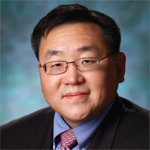 Philip Seo, MD, MHS, is an associate professor of medicine at the Johns Hopkins University School of Medicine, Baltimore. He is director of both the Johns Hopkins Vasculitis Center and the Johns Hopkins Rheumatology Fellowship Program.
References