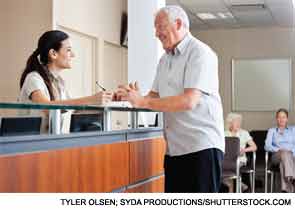 With the significant healthcare market shift in payment models, there is an increase in patient responsibility for medical services due to more consumer-direct or high-deductible health plans. This cost shift will build a growing financial impact to rheumatology practices, and it's important for physician practices to change how they view and collect co-payments, co-insurance and patient deductibles. This assessment should be looked at now rather than later, because it will have a direct impact on practices' financial stability. In 2008, the Celent Group released a report indicating that each provider will be responsible for collecting approximately $317,000 in co-pays from patients in 2014.1
Due to the potential loss in revenue, providers will need to focus significantly on improving co-pay collections and educating patients on their responsibility. Patient collections will improve only if there is a positive change to the current method of collecting co-pays.
Establish Co-Pay Collection Policies & Procedures
A good collections process requires adequate communication between the physician, patients, staff and payers. Physician practices should understand and know what services Medicare or a third-party payer will cover, and patients must recognize what amount they will be responsible for paying for services that will not be covered by their insurance plan.
Office staff should be familiar with the insurance payment terminology for co-pays, deductibles and co-insurance to guarantee the correct payment is collected up front. A co-payment is the flat amount the insured is required to pay up front for medical services or medication; the deductible is a carved-out or percentage amount the patient is responsible for paying prior to receiving most medical services other than what is applied to a patient's co-pay. The co-insurance is the amount the patient is responsible for after the deductible or co-payment is applied plus the balance remaining after the carrier's payment.
To boost revenue in an office, there should be a written policy for both staff and patients to read and understand. A guideline should be established on when and how co-pays, deductibles and co-insurance will be collected.
All co-pays should be collected prior to services. Determining if an office will collect a deductible or co-insurance depends on how well the staff is trained on insurance verification. Staff members should verify benefits and patient responsibility prior to the patient arriving at the office; if there is a need to get up-to-date information, then it is imperative for this information to be reviewed and verified as soon as the patient arrives at the office.