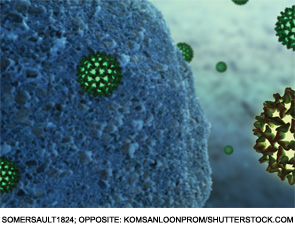 Hepatitis B virus in close contact with human cells.
On Sept. 25, 2013, the Food and Drug Administration (FDA) issued a drug safety communication that described approved modifications to the prescribing information for Rituxan (rituximab) and Arzema (ofatumumab). The changes emphasize the risk of hepatitis B virus (HBV) reactivation with use of these anti-CD20 molecules and provide guidance for screening, monitoring and management of patients to reduce this risk. The revisions were prompted by an FDA review of confirmed HBV reactivation fatalities reported to the Adverse Events Reports database associated with rituximab (31 cases) and ofatumumab (one case).
HBV reactivation is a well-described complication of cytotoxic and immunosuppressive medications, including rituximab, methotrexate, corticosteroids and anti-tumor necrosis factor agents, in patients with prior HBV infection. HBV reactivation begins with increasing serum levels of HBV DNA followed by a rise in serum alanine aminotransferase (ALT) levels. In severe cases, progression to liver failure and death can occur. Given the potential serious consequences of HBV reactivation and the availability of safe and effective HBV antivirals that may prevent HBV reactivation, increased attention to screening and monitoring for HBV in patients receiving immunosuppressive medications is warranted.
ADVERTISEMENT
SCROLL TO CONTINUE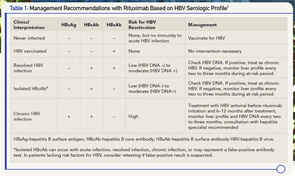 click for large version
Table 1: Management Recommendations with Rituximab Based on HBV Serologic Profile1
Screen for HBV Before Immunosuppression
The initial screening for HBV consists of HBV surface antigen, HBV core antibody and HBV surface antibody (see Table 1e). Patients who lack all three markers could be considered for vaccination if they have risk factors for HBV. Patients who are HBV surface antigen positive are at high risk for HBV reactivation and should be referred to a hepatitis specialist for antiviral therapy before immunosuppression. Patients with HBV core antibody without HBV surface antigen can still harbor low levels of HBV replication in the serum or liver. In these individuals, the presence of HBV surface antibody reduces, but does not completely eliminate, the risk for HBV reactivation. It is beneficial to test for HBV DNA in all patients who are HBV core antibody positive regardless of HBV surface antibody status. Patients who are HBV DNA positive will likely require prophylaxis with an HBV antiviral before immunosuppression and should be referred to a hepatitis specialist.
ADVERTISEMENT
SCROLL TO CONTINUE

Dr. Burton
Monitor for HBV Reactivation During & After Immunosuppression
Because HBV reactivation can occur at any time during immunosuppression and up to one year after treatment with rituximab, the at-risk period for HBV reactivation extends for 6–12 months after giving each rituximab dose. Patients who are HBV surface antigen positive and/or have detectable levels of HBV DNA should be treated with HBV antivirals a minimum of two or three weeks before beginning rituximab and continued for 6–12 months after therapy with rituximab is completed. Patients should be monitored with a liver profile and HBV DNA every two to three months while on HBV antivirals. The justification for this approach is largely derived from use of rituximab in patients with chronic HBV and malignancy, and the safety of rituximab in patients with chronic HBV infection on antiviral prophylaxis is uncertain.