You Might Also Like
Explore This Issue
April 2014
Also By This Author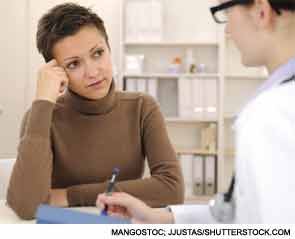 ADVERTISEMENT
SCROLL TO CONTINUE
You're meeting with a female patient newly diagnosed with rheumatoid arthritis (RA). You review diagnosis basics, medications to take and how often to take them, and you share some written material about the disease. The patient says "yes" when you ask if she understands the written material and your instructions. However, does the patient truly understand?
A Question of Comprehension
Patient education with the use of printed materials may seem simple on the surface, but it's actually complex—and can have serious consequences if a patient does not understand what they read about their rheumatic disease.
ADVERTISEMENT
SCROLL TO CONTINUE
A misunderstanding of patient education material may result from poor reading literacy or poor health literacy skills. A survey released in late 2013 from the Program for the International Assessment of Adult Competencies revealed that more than one in six adults have low literacy reading skills; other seminal works in adult literacy have found percentages closer to one in three adults. Health numeracy, a component of health literacy, is the ability to comprehend simple numerical concepts, such as dosage and frequency of medications. The same survey of adult competencies found that one-third of U.S. adults have significant deficiencies in numeracy.
Low or limited health literacy can affect comprehension of your patient education materials—and health outcomes. A recent Arthritis Care & Research study in a large group of rheumatoid arthritis patients reported that health literacy was linked to functional status more strongly than prednisone use, smoking history, biologic use and even educational level.1
"Limited health literacy is an incredibly large problem in the United States and is overrepresented in the elderly and ethnic minorities," says study co-author Joel M. Hirsh, MD, Division of Rheumatology, Denver Health Medical Center, Division of Rheumatology, University of Colorado School of Medicine, Denver.
ADVERTISEMENT
SCROLL TO CONTINUE
Another challenge with patient-geared materials is the reading level. Patient materials that are written at too high a reading level—determined by such factors as syllables per word and words per sentence—could actually seem like a foreign language to patients, even if it's normal reading for a rheumatologist. Layout and the use of graphics (or the lack thereof) also affect how easy it is for patients to understand written information. In fact, an October 2013 study that evaluated 23 patient-geared resources on four different rheumatic diseases found that all of the resources had a readability level above the eighth-grade level—higher than the sixth-grade level commonly recommended for patient materials.2