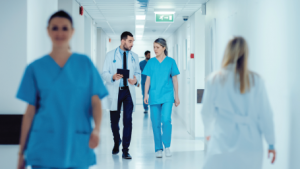 The traditional model for subspecialist consultations on hospitalized patients by outpatient-based rheumatologists may seem straightforward. Hospitalists (the inpatient specialists who now manage most in-hospital medical care in the majority of U.S. hospitals) typically call upon the rheumatologist's expertise for joint swelling and a rash or fever of unknown origin, says Lianne Gensler, MD, of the Division of Rheumatology at the University of California, San Francisco (UCSF).
You Might Also Like
Explore This Issue
October 2019
Also By This Author
Relevant clinical conditions may include acute flares of lupus, vasculitis or gout. Perhaps the patient presents to the emergency department with symptoms but hasn't previously received a rheumatologic diagnosis, or maybe the hospitalist just has questions about whether symptoms may be rheumatologic. "You don't have to be sure the patient has a rheumatologic disease to call us," Dr. Gensler says. "We like to be asked."
ADVERTISEMENT
SCROLL TO CONTINUE
But what if a rheumatologic consult is not readily accessible? Recent research from the ACR has documented anticipated shortages of practicing rheumatologists, estimated at 700 today and growing to 4,000 by 2030, with the current system of medical education unable to graduate enough new rheuma­tologists to fill the gap.1
Some of those in practice today have found visiting the hospital to perform consultations no longer fits into their busy outpatient schedules or no longer can be justified financially under the current healthcare system. Hospital consultations are relatively poorly paid for the time they take, and there's no compensation for being on call for unpredictable consultation requests.
Dr. Gensler spoke about these dilemmas at the most recent annual UCSF Management of the Hospitalized Patient conference held October 2018 in San Francisco. "Some hospitalists at the conference told me they no longer have access to rheumatology consultations because their community's rheumatologists won't go to the hospital anymore. Part of that may be driven by the workforce shortage, rather than by rheumatologists not wanting to be helpful," Dr. Gensler tells
The Rheumatologist.
In other cases, hospitalists may not think of a rheumatic diagnosis, or may call the rheuma­tologist for issues clearly unrelated to rheumatologic disease or easily managed post-discharge in the outpatient setting. It's important for the hospitalist to consider when to call or not to call, Dr. Gensler says. And yet there may be important clinical puzzles that must be solved.
For example, should certain rheumatologic medications—especially disease-modifying anti-rheumatic drugs or other drugs with immunosuppressive effects—be discontinued for the duration of a hospital stay? The acuity of hospitalized patients with rheumatic disease has gone up dramatically in recent years, says David Daikh, MD, chief of rheumatology at the San Francisco VA Medical Center and director of the Rheumatology Fellowship Program at UCSF. "Fewer rheumatologic patients have to be hospitalized than in the past, due to improved care. But the patients that need to be hospitalized are very sick." Other subspecialists may also be involved, offering conflicting recommendations the hospitalist must reconcile.
ADVERTISEMENT
SCROLL TO CONTINUE
But many hospitalists did not receive a lot of rheumatologic education in their internal medicine training (especially for the less common conditions) and may not appreciate all of the systemic manifestations of an autoimmune disease such as vasculitis or lupus. A constellation of symptoms involving multiple organ systems with signs of inflammation, fevers of known origin or shortness of breath with inflammation may exist. Patients with advanced rheumatoid arthritis or ankylosing spondylitis may have special considerations regarding intubation. A common question for hospitalists: Could this be lupus? What about renal dysfunction secondary to lupus? How do we interpret these laboratory findings?
These kinds of questions may prompt hospitalists to consult a rheumatologist. But they will want answers quickly due to the imperatives of discharging the hospitalized patient as quickly as feasible.