"The resident's purpose is to entertain the patient until I can get there," I said decisively, suppressing a smile as I awaited the audience's reaction. I was attending our Department of Medicine's inaugural "Teach the Teachers" faculty development workshop held last June on a hot summer afternoon. The sun was shining, but we were in a drab and dark classroom. At this workshop, we were discussing outpatient teaching when a colleague asked, "How do you function efficiently when you have a resident with you?" Although I was intending to be facetious to capture my audience's attention, my comment had a serious side. The organizer (who, I think, wanted to see how serious I really was about this issue) liked the comment and afterwards invited me to speak at the next workshop on efficiency with learners in the outpatient setting.
Reflection on the role of learners in the clinic, and how to maximize their learning potential along with my efficiency, led me to examine how I can improve the clinic experience for myself and the learners in my office. In this article, I will describe my thinking.
ADVERTISEMENT
SCROLL TO CONTINUE
The Challenge
The results of a recent workforce survey mentioned in the June 2010 issue of The Rheumatologist stated that academic rheumatologists see, on average, 44 patients each week in 16 clinic hours.1 With an average of 11 patients per session, teaching rheumatology effectively can be very challenging. Generally speaking, learners slow you down. In one published report, each resident in a general medicine clinic decreased production for the half day by about 0.8 wRVUs [relative value units] (see Table 1).2
ADVERTISEMENT
SCROLL TO CONTINUE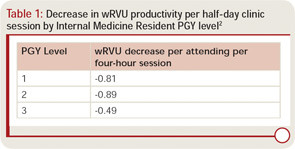 click for large version
Table 1: Decrease in wRVU productivity per half-day clinic session by Internal Medicine Resident PGY level2
Every person in a clinical teaching interaction has different goals. Your patient expects to see you, be appropriately assessed and managed, and hear answers to his or her questions. Learners must acquire the knowledge, skills, and attitudes necessary for competent practice and to pass certification examinations. The learner needs and expects performance feedback. You want to provide excellent patient care, efficiently meet productivity goals, impart knowledge, and even inspire learners to become rheumatologists. Successfully meeting these goals requires organization and planning! Using efficient outpatient teaching techniques can help ensure positive outcomes for all three stakeholders: learners gain knowledge; patients receive added attention, insight into their conditions, and satisfaction from helping teach tomorrow's providers; and you, the teaching rheumatologist, can gain the satisfaction of successfully teaching.
The Data
The medical education literature supports experiential learning. Residents learn well through direct practice (e.g., learning arthrocentesis on models), faculty role modeling, and a consistent relationship between the resident and the teacher.3 In our current learning environment, continuity of resident and attending pairs in subspecialty clinic may be unusual, making it difficult to understand trainees' learning needs. Although a survey analysis revealed only 40% agreement between the faculty and housestaff regarding the trainee's top priority learning need, the trainee's satisfaction with a faculty interaction appeared independent of whether the perceived learning needs were aligned.4 This result indicates that any case-based teaching is beneficial. A study by Laidley et al suggested that, in supervisory interactions, residents most commonly seek validation of their treatment plans.4 Other common learning needs include learning about therapy, differential diagnosis, clarification of physical findings, and choosing diagnostic testing. Faculty goals in any interaction are more often focused on assessing the trainee's performance and recommending further study.