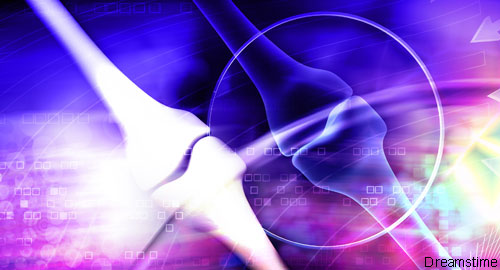 Scientists believe that the change in subchondral bone that is characteristic of osteoarthritis (OA) results from a two-stage process of microdamage followed by subchondral trabecular sclerosis. Hyaluronan is a major constituent of extracellular matrices in connective tissues, including articular cartilage, and three hyaluronidases (Hyal1, Hyal2 and Hyal3) are believed to play a key role in hyaluronan degradation. These hyaluronidases may also play an important role in OA, because the presence of high molecular weight hyaluronic acid (HMW-HA) appears to prevent osteoclast differentiation and inhibit osteoclastogenesis.
Investigators have targeted these three hyaluronidases in mice strains in an attempt to better understand their role in OA. Example: Studies have revealed that Hyal1 deficiency in a mouse model of mucopolysaccharidosis IX (MPS IX) is associated with OA. In contrast, Hyal3-knockout mice exhibited no gross phenotypic abnormalities and no abnormalities in their knee joint tissue.
New research reveals that Hyal2-knockdown mice present with mucopolysaccharidosis-like OA changes in articular cartilage similar to those seen in Hyal1-knockdown mice. The research by Yoshitoshi Higuchi, MD, of the Nagoya Graduate School of Medicine in Japan and colleagues was published online Aug. 1 in Scientific Reports.1 The investigators used cartilage specific Col2a promoter conditional Hyal2-/- mice for their studies. These mice lack Hyal2 expression in their cartilage, and the investigators found that these knockdown mice experienced an accelerated development of OA with age as increased vulnerability to OA from the destabilized medial meniscus (DMM) procedure.
"In our study, Hyal2 was expressed in growth plate cartilage, which is consistent with a previous report describing that both Hyal1 and Hyal2 mRNAs were highly expressed at the proliferative and hypertrophic layers of rabbit growth plate," write the authors in their discussion. "Hyal2 knockout in growth plate cartilage resulted in the accumulation of [hyaluronan]."
In their study, the investigators compared Hyal2-knockdown mice with wildtype mice and found no gross phenotypic abnormalities or significant difference in stainable proteoglycan of articular cartilage between the two strains. As expected, Hyal2 mRNA expression was specifically reduced in the cartilage of Hyal2-/- mice relative to wildtype mice. The researchers then quantified the amount of hyaluronan in joint cartilage and found that Hyal2 deficiency resulted in a significant accumulation of hyaluronan. In particular, the hyaluronan molecules with a molecular mass bigger than 280kDa were specifically increased in Hyal2-/- mice relative to wildtype mice. Together, the results suggest that Hyal2 plays a role in the turnover of cartilage hyaluronan.
The researchers then performed destabilized medial meniscus surgery on the mice to provoke the development of OA. They found that the Hyal2-/- mice exhibited aggravated cartilage degradation following destabilized medial meniscus relative to wildtype mice. When the team analyzed explant cultures from Hyal2-/- mice, they found the articular cartilage was more degraded. Although the investigators acknowledge that the precise mechanism underlying the development of OA in Hyal2 deficient mice is still not clear, they conclude that their results point to an imbalance in hyaluronan metabolism.