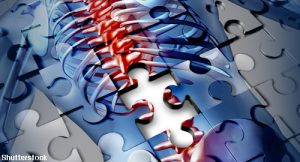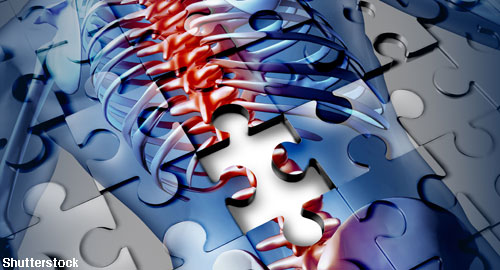 Dan Reynolds, lead singer of the Grammy award-winning band Imagine Dragons, has partnered with Novartis to increase awareness of ankylosing spondylitis (AS). Novartis sells the human interleukin-17A antagonist secukinumab, which has an indication for adults with:
You Might Also Like
Also By This Author
Active ankylosing spondylitis;
Moderate to severe plaque psoriasis that involves large areas or many areas of the body, and who may benefit from taking injections or pills (systemic therapy) or phototherapy (treatment using ultraviolet or UV light, alone or with systemic therapy); and
Adults with active psoriatic arthritis.
Monster Pain
Dan Reynolds is the face of Novartis' disease awareness campaign, Monster Pain in the AS.1 Mr. Reynolds was diagnosed with ankylosing spondylitis when he was 20 years old and has been living with the diagnosis for more than 10 years. His diagnosis was facilitated by a family history of autoimmune disease.
ADVERTISEMENT
SCROLL TO CONTINUE
Ankylosing spondylitis entered Mr. Reynolds' life just as his band was gaining popularity. His severe pain made it difficult to perform on stage. The diagnosis was a blow and forced him from a young age to identify strategies to help manage the pain. He relies on diet, exercise and consultation with a rheumatologist. Mr. Reynolds follows an anti-inflammatory diet, avoids red meat and consumes little to no artificial sugar. He moves and stretches regularly and emphasizes core strengthening exercises like yoga. He also notes that stress is one of the main triggers of ankylosing spondylitis. Consequently, he actively cultivates a mindset that helps him manage stress.
Diagnosis
The campaign describes ankylosing spondylitis as a "hidden condition" and points out that it affects millions of people. For many, the diagnosis is delayed. In some cases, individuals with ankylosing spondylitis are mistakenly diagnosed with rheumatoid arthritis or fibromyalgia. Novartis' Monster Pain in the AS website offers a three-minute quiz to help visitors determine if their symptoms warrant a visit to a rheumatologist. It also provides a place where visitors may enter their zip code to discover board-certified rheumatologists in their area.
ADVERTISEMENT
SCROLL TO CONTINUE
The website walks the visitor through the difference between mechanical and inflammatory back pain. It notes that, in the case of mechanical back pain, the symptoms can appear at any age and the pain can be deep and severe. The pain may also come and go and can be relieved by rest and relaxation. In many cases, mechanical back pain worsens with exercise.
In contrast, exercise tends to provide relief to inflammatory back pain. Also, unlike mechanical back pain, the first symptoms of inflammatory back pain tend to occur when patients are in their 20s and may even occur in teenagers. In addition to pain, individuals with ankylosing spondylitis experience stiffness and changes in mobility. Although specific symptoms may come and go, inflammatory back pain is chronic. Symptoms tend to worsen at night and in the morning. The website urges individuals who meet the profile of inflammatory back pain to consult with a rheumatologist if their symptoms last for three or more months. Although only 1 in 20 patients with back pain will end up with a diagnosis of ankylosing spondylitis, it is important for these patients to get the diagnosis because, if untreated, ankylosing spondylitis can cause irreversible damage including fusion of spinal joints and vertebrae.
Managing Ankylosing Spondylitis
An estimated 2.7 million people in the U.S. have ankylosing spondylitis and related conditions. Ankylosing spondylitis pain begins in the lower back, but it can progress to the hips, shoulders, knees and beyond. Patients may also develop fatigue, fever and trouble sleeping.
ADVERTISEMENT
SCROLL TO CONTINUE
Patients with ankylosing spondylitis tend to feel better if they move around, and thus the website suggests that patients maintain an active lifestyle. Specifically, in addition to yoga, the site recommends moderate exercises, such as swimming, biking or walking. The website also notes that an emphasis on good posture may prevent the "bending" effect that is characteristic of ankylosing spondylitis.
Novartis' Monster Pain in the AS website offers a three-minute quiz to help visitors determine if their symptoms warrant a visit to a rheumatologist.
Many individuals with ankylosing spondylitis also have difficulty sleeping. Stiffness during the night can make it difficult to sleep and can prompt pacing to relieve discomfort. The website thus emphasizes the importance of sleep hygiene and points out that sleep can be helpful in fighting inflammation.
Mr. Reynolds also contributes as an editor to Novartis' "This AS Life" collection of short films that provide advice to patients living with ankylosing spondylitis.2 One film, for example, addresses the management of pain and flares associated with the condition. In the film, Robert Overbaugh, MD, medical director of pain management services at Cancer Treatment Centers of America in Philadelphia, explains that in the case of his disease, he first experienced iritis. A subsequent neck injury prompted X-rays and an actual diagnosis of ankylosing spondylitis.
In the film, Dr. Overbaugh notes that, for him, although the major symptom of ankylosing spondylitis was fatigue, he also experienced pain. "I'd feel like I was achy. My knees would hurt. My back would hurt," he explains. The ache could be prompted just from standing. He also emphasizes the stiffness that he feels in the morning and during the night. Dr. Overbaugh finds it helpful to relieve the stiffness with movement, warm showers and consistency with his medication regimen. He also recommends mindfulness, relaxation techniques and biofeedback.
Lastly, Dr. Overbaugh explains when patients with ankylosing spondylitis come to him for pain management, he first tries to determine the underlying cause of a flare. Often, flares are caused by poor sleep, decreased exercise or even an infection. He reminds patients to work to address these underlying triggers of flares and take a holistic approach toward managing the pain of ankylosing spondylitis.
---
Lara C. Pullen, PhD, is a medical writer based in the Chicago area.
References
Monster Pain in the AS. https://monsterpainintheas.tumblr.com/after-diagnosis/#managing.
This AS Life. https://www.usa.thisaslife.com/.