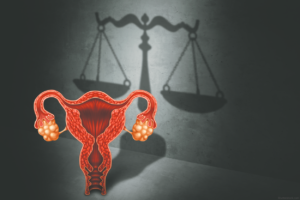 Since the Supreme Court ruling in June 2022 overturning 50 years of precedent protecting abortion as a constitutional right (Dobbs v. Jackson Women's Health Organization), states are enacting and implementing new laws to regulate abortion, and medical organizations and healthcare providers are assuming the large task of understanding what the new laws mean for their practices and patients.
According to Michael D. Lockshin, MD, professor of medicine and obstetrics-gynecology, Weill Cornell Medicine, and director emeritus of the Barbara Volcker Center for Women and Rheumatic Diseases at the Hospital for Special Surgery (HSS), New York, the aftermath of the Supreme Court ruling can be summed up in one word—chaos.
ADVERTISEMENT
SCROLL TO CONTINUE
"There is no uniformity of legal standards and hospital rules," says Dr. Lockshin. "Some hospitals require a board to approve a termination even when a patient is desperately ill, while others refuse all terminations, and some leave it to the doctor's discretion."
Compounding this chaos are disputes about what abortion means:1 Does abortion mean termination of a pregnancy regardless of intent, or does intent matter? If intent matters, when is termination of a pregnancy permitted under laws that prohibit abortion? In Wisconsin, for example, the law now defines abortion as the intentional killing of an unborn child, which is defined as an embryo or fetus from the time of conception through birth, and bans abortion with one exception: for what is called a therapeutic abortion, when a termination is deemed necessary to save the mother's life.2 Would an elective termination of a pregnancy in a patient with lupus at high risk of dying if they went to term and delivered the baby be considered a therapeutic abortion?
ADVERTISEMENT
SCROLL TO CONTINUE
While all of this is playing out on the larger stage, rheumatologists and patients are living with the impacts, given their state of residence and specific circumstances. With many people of child-bearing years under their care, rheumatologists know only too well the challenges that a condition such as lupus or rheumatoid arthritis can present to someone who wants to become, or is, pregnant. Among the adverse effects a patient faces when pregnant are disease flares and the risk of death, underscoring the importance of appropriate medical management of their disease throughout their pregnancy.
For people with rheumatic diseases who become pregnant, current evidence-based guidance supports continuing medical management throughout pregnancy to avoid the risk of disease flares.3 Adhering to these guidelines in the midst of the upheaval of the Supreme Court ruling is critical to ensure patients with rheumatic diseases continue to receive the best care for their disease while pregnant.
Intent Matters
Drugs used to treat inflammatory conditions, including methotrexate, mycophenolate and cyclophosphamide, have effects that can call into question whether they are problematic for use in rheumatologic care under laws that prohibit abortion. Harm to the fetus is one potential effect, and the ability to induce abortion another.
ADVERTISEMENT
SCROLL TO CONTINUE
Agents that can harm the fetus are referred to as fetotoxic or teratogenic, with the former referring to a substance that can cause degenerative effects in the developing fetus or embryo, and the latter referring to any agent that causes an abnormality after fetal exposure during pregnancy. Agents that can induce an abortion are referred to as abortifacient.
The standard of care for the most common rheumatic conditions includes medications that can harm the fetus and lead to miscarriage, or if the fetus is carried to term, can result in congenital anomalies.4 For patients receiving these medications while pregnant, elective termination of the fetus is sometimes chosen when signs of fetal malformation are found.
In the wake of Dobbs v. Jackson Women's Health Organization, the choice to terminate a fetus in this situation may be limited and counseling patients on the risks they face should they want to terminate a pregnancy due to fetal abnormalities becomes all the more important.
"The patient has to be aware what could occur," says Rosalind Ramsey-Goldman, MD, professor of medicine, the Feinberg School of Medicine at Northwestern University, Chicago. "If there is an abortion ban [in their state], they will have to grapple with the possibility of having a child with a congenital anomaly or seek an abortion out of state or [by another] avenue."
Numerous patients have reported difficulty obtaining methotrexate and other drugs used to treat rheumatic conditions since the Supreme Court ruling. An analysis by Starzyk et al. in Arthritis & Rheumatology, and discussed in an article in Bloomberg Law, describes the broad impact of the new ruling on the high percentage of patients with autoimmune conditions who require treatment with methotrexate.5,6 In high doses, methotrexate can induce abortion, and it can harm the fetus. But in lower doses, as used in rheumatologic practice, it does not induce abortion.
"Rheumatologists do not prescribe methotrexate to patients to induce abortions; we use methotrexate at much lower doses to treat inflammatory conditions," says Mehret Birru Talabi, MD, PhD, assistant professor of medicine, Division of Rheumatology and Clinical Immunology, University of Pittsburgh School of Medicine.
"Misinformation about these medications is concerning," says Dr. Ramsey-Goldman. She explains that many of the medications used to manage rheumatic disease are teratogenic but may be conflated with abortifacients. To help patients access their medications, Dr. Ramsey-Goldman suggests clinicians consider adding information about the underlying rheumatic disease, using ICD-10 codes on the prescriptions.
The ACR is addressing misinformation.7 In July 2022, it created the Access to Reproductive Health Care Task Force to explore options related to medication access, as well as other issues of concern to clinicians. The task force has taken several steps, including reaching out to state pharmacy boards and other relevant parties, to ensure methotrexate and other medications remain available to rheumatology patients and encouraging clinicians, patient advocates and patients to report problems with medication access.
Dr. Talabi underscores that cases of medication denials need to be collected to understand the public health impact of abortion restriction nationwide. "We need rigorous data to start to understand the impact of abortion restriction on patient care and outcomes," he says.
Despite the fact that rheumatologists do not prescribe medications for the purpose of abortion, Dr. Lockshin thinks rheumatologists in some states will face increasing tension between providing evidence-based and effective medications and the fear that they may be prosecuted or lose their license if the medication is used for purposes other than for disease control.
"With abortion restrictions in some states, medical treatment decisions will be difficult when the mother's rheumatic disease is active or if a fetus is inadvertently exposed to a teratogenic medication, putting the mother and fetus at increased risk of morbidity and mortality," says Dr. Ramsey-Goldman.
Documentation & Legal Considerations
To protect patients and rheumatologists against potential liability, particularly in states enacting strict abortion bans with ambiguous language, clinicians may need to consider what they document during a patient visit.
"Doctors should consider how much documentation is necessary to include in the patient's medical record," says Jessie Hill, professor of law at Case Western Reserve University School of Law, Cleveland. "For example, it's possible that information about a patient self-managing her own abortion could lead to legal liability for the patient or the patient's friends or family," she says.8
In general, however, Ms. Hill doesn't think rheumatologists have to worry about the abortion laws because, even in states with strict abortion bans, the laws shouldn't impede clinicians from prescribing medications that are optimal for their patients' health. "Prescribing a drug that could result in miscarriage in order to treat another condition would not generally meet the definition of an abortion," she says.
She acknowledges, however, that clinicians may be hesitant to provide patients of childbearing age with medications that may result in harm to a baby who is ultimately born or to a pregnancy that ends in a miscarriage. It is conceivable, she says, that a clinician could be subject to liability for medical malpractice or other claims depending on their state's law (e.g., wrongful death) and may, therefore, want to consult a lawyer licensed in their state with questions about a specific situation.
To avoid this situation, Cuoghi Edens, MD, assistant professor of internal medicine and pediatrics at University of Chicago Medicine, says documentation is critical, particularly in states with ambiguous abortion laws where, for example, definitions of aid and abet are gray.
Documenting conversations with patients and families about the risks of pregnancy and recommendations for contraceptive use protects rheumatologists from potential liability in the future, she says, adding that such documentation can help the patient's other care providers as well. For patients, documentation is helpful because they can access their medical records to review information discussed during their clinical visit.
In general, Ms. Hill emphasized that physicians should familiarize themselves with the rules of their state about what sorts of conduct they are required (or not required) to report to law enforcement or other state agencies. For example, she cited a scenario in which a physician practicing in a state with restrictive abortion laws refers a patient for an abortion to a state without an abortion ban. In this case, physicians "should consult legal counsel to ensure they are not at risk of violating any state laws," she says, adding that most states don't forbid this, but "it's better to be safe, especially given that most abortion restrictions carry criminal penalties."
Going Forward
Stressing that rheumatologists should not change treatment plans or veer from evidence-based practice based on the recent ruling, Dr. Edens put a positive spin on what the ruling has offered rheumatologists.
"The Supreme Court ruling has brought an often taboo subject to the forefront of rheumatology and demonstrated that reproductive health is essential to rheumatology care," she says. "The effect of the lack of access to abortion for patients on medications that cause congenital malformations or who have severe, organ-threatening rheumatic disease is obvious."
She emphasizes that rheumatologists who care for patients of child-bearing age should evaluate their patients' sexual activity and pregnancy intentions at every visit and when new medications are prescribed. She cautions against assuming a patient's primary care provider is discussing these issues with them, and emphasizes that patients want their rheumatologist to be involved in their reproductive health.
TERMINOLOGY & RESOURCES
What does abortion mean? A New York Times article says even the word itself is up for debate and offers a discussion of the semantics of abortion.2 The ACR Reproductive Health Initiative has guidelines and resources to assist shared decision making on a range of contraception options and medical management to control disease before, during and after pregnancy.
"There are numerous medications that can be used successfully in pregnancy, but we have to know about this [intention to become pregnant] and be able to plan, and we won't know until we ask," says Dr. Edens.
Dr. Ramsey-Goldman also says that preconception planning is key to maximizing health outcomes for both the mother and child. For all patients, controlling disease is essential. For both patients with active disease and those taking fetotoxic medications, counseling patients to use a highly effective contraceptive is critical to avoid pregnancy. For patients who want to become pregnant, it is important they do so when their disease is inactive and controlled on medications recommended for use during pregnancy.
---
Mary Beth Nierengarten is a freelance medical journalist based in Minneapolis.
References