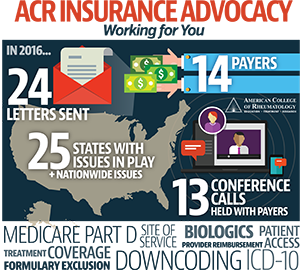 Concerned about reimbursement for specialty drugs? Wondering if your patient can continue on a prescribed medication despite formulary changes? Unsure how to request a tier exception? No need to face these issues alone. The ACR has a resource that can assist with questions regarding coverage and payment policies for private insurers and Medicare. That resource is the Insurance Subcommittee (ISC).
You Might Also Like
Also By This Author
Current Issues
The ever-changing healthcare environment has created a need for the ACR to be able to interact with payers regarding policies that threaten patient access to care or treatment. The ISC was launched in 2009 to proactively engage insurers to influence the development of policies that affect coverage, as well as standing up for rights of ACR members and their patients when it becomes clear that payer action will lead to decreased availability of medications and services.
ADVERTISEMENT
SCROLL TO CONTINUE
Although some ACR members aren't aware that this group exists to support them on coverage and payment issues, most of the issues handled by the ISC are brought to the attention of the subcommittee by individual members.
Current issues the ISC is working on include site-of-service policies and downcoding by several Medicare carriers.
ADVERTISEMENT
SCROLL TO CONTINUE
Site-of-Service Policies
The subcommittee is working to ensure that payers who are implementing site-of-service/care policies to move infusions away from higher-cost hospital outpatient settings are not harming patients' access to treatment or jeopardizing patient safety by forcing home infusion of biologics.
The subcommittee is also working on issues related to formulary tier changes and grandfathering. Central to this is making sure that stable patients are able to continue with their current therapy despite formulary changes. This is especially critical as biosimilars become more available, as the choice of best treatment should be a decision made by the rheumatology provider and patient. In addition, the ISC is involved in maintaining patient access to expensive treatments by preserving the use of co-pay cards where appropriate.
Downcoding
Another key issue about which members have expressed concern is downcoding by several Medicare carriers. The subcommittee is working on the need to ensure that patients have access to biologics despite the decision by certain Medicare carriers to decrease reimbursement for administration of those drugs.
ADVERTISEMENT
SCROLL TO CONTINUE
To tackle these kinds of issues for members, the subcommittee sends letters or has conference calls with the insurance carriers; it also reviews draft policies and provides feedback to insurers as requested.
The ACR is committed to advocating for appropriate coverage and payment policies. The volunteer members of the ISC lead the effort. The 2016–17 ISC members are:
Sean Fahey, MD—Chair
Kamala Nola, PharmD, MS—ARHP Representative
Anne Eberhard, MD, MSc
Daniel El-Bogdadi, MD
Howard Kenney, MD
Barry Myones, MD
Yvonne Sherrer, MD
Richard Stern, MD
Catherine Sullivan, MD
For More Information
For more information on what the committee does and the issues it is currently working on, visit the Insurance Advocacy Current Issues page on the ACR website.