Despite considerable enthusiasm for rituximab in SLE, two recent placebo-controlled trials in nonrenal lupus (EXPLORER) and renal lupus (LUNAR) failed to meet primary endpoints. Although EXPLORER is clearly the best trial we have so far on the use of rituximab for SLE, it does have problems. It was designed to enter patients who had very active disease and therefore were treated aggressively with moderate- to high-dose glucocorticoids. This approach makes the detection of a benefit difficult over the short term. Interestingly, the rituximab-treated group did have a serological response by the one-year endpoint, suggesting that some clinical benefit might have accrued with longer follow-up.
Other problems with the EXPLORER trial include the outcome measures used and the heterogeneous nature of SLE itself. Because different manifestations of SLE may result from different mechanisms, one targeted therapy is unlikely to be effective for all patients. Finally, it is also worth noting that the most impressive open-label results with rituximab for SLE have been observed in refractory patients treated with one or two low doses of cyclophosphamide in combination with rituximab, an approach not used in either EXPLORER or LUNAR.6
ADVERTISEMENT
SCROLL TO CONTINUE
Other Anti-CD20–Directed Therapies
Other monoclonal antibodies that target CD20 are in various phases of development, including ocrelizumab (humanized anti-CD20). Theoretically, a fully human antibody may be better tolerated during infusions due to less immunogenicity. This situation could translate into more complete B-cell depletion, especially in SLE where human antichimeric antibodies are more common after rituximab, which has mouse immunoglobulin sequences. It seems logical that our goal should be to achieve as complete a B-cell depletion as possible, although this may not equate to greater efficacy in all cases.
Although anti-CD20 is usually effective in depleting B cells from peripheral blood, success in depleting B cells from other sites, such as lymph nodes or tertiary lymphoid tissues, may be highly variable. Failure to deplete in these tissue sites may lead to nonresponse or early relapse. Combination therapy, either with conventional disease modifying agents or other biologics such as cytokine blockade, may achieve better depletion. Along these lines, we have found that treatment of RA with etanercept has unexpected effects on the B-cell compartment with decreases in memory B cells and altered lymphoid architecture (see Figure 1, p. 25).7 These findings suggest a convergence of mechanism between TNF blockade and B-cell depletion therapy and raise the interesting speculation regarding potential synergy. Along these lines, it is interesting that there are anecdotal reports of improved efficacy of TNF blockade after B cell–depletion therapy (in patients with a prior inadequate response to anti-TNF). Interestingly, the BELONG trial, a phase III trial of ocrelizumab for lupus nephritis that has been underway, includes an arm with combination anti-CD20/cyclophos­phamide that may also act synergistically for more effective B-cell depletion. This trial may help define whether cyclophosphamide should be used with anti-CD20 in the treatment of SLE.
ADVERTISEMENT
SCROLL TO CONTINUE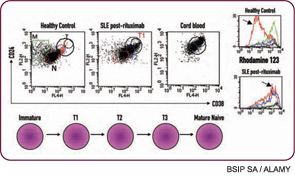 click for large version
Figure 2: Long-term responders to B cell–depletion therapy in lupus display a unique B cell–reconstitution profile. Based on flow cytometry analysis, peripheral blood B cells from a healthy control are predominantly of a mature naive (N) phenotype with a small fraction of transitional (T) B cells, cells that are intermediate between immature in the bone marrow and mature in the periphery. In this SLE patient, after B-cell depletion and at the point of B-cell reconstitution, the majority of the peripheral B cells are of a transitional phenotype, similar to cord blood—in essence a "recapitulation of B-cell ontogeny." Even the apparently mature naive B cells, based on lower expression of CD24 and CD38, are actually a T3 transitional B cell (see histogram for Rhodamine 123 extrusion at arrow).
Other B Cell–Targeted Therapies
Epratuzumab is a humanized anti-CD22 that also induces B-cell depletion, although the depletion is less pronounced than with anti-CD20 and is preferentially of naive and transitional B cells. However, anti-CD22 also blocks the activation and proliferation of B cells, possibly acting as a negative regulator of B-cell function. A recent Immuno­medics press release regarding a phase IIb trial of epratuzumab in SLE reported superior response rates compared with placebo at Week 12.