I have always been dissatisfied with the apparent dichotomy between researchers and clinicians; this is a false divide. Yes, research includes laboratory-based investigation, clinical trials, and retrospective and prospective studies of disease entities, among other pursuits. However, clinicians also contribute to research by sharing clinical data and through observations of their patients. Clinicians' daily contributions ensure we have the opportunity to learn from every patient seen in rheumatology practice, leading to the development of ideas for improvements in clinical care, subsequent studies into disease mechanism and clinical trials to test new interventions.
As rheumatologists and rheumatology professionals, we all contribute to this cycle of knowledge generation that advances rheumatology practice every day.
ADVERTISEMENT
SCROLL TO CONTINUE
To move our specialty forward, rheuma­tologists and rheumatology professionals need the right tools to conceive needed studies and participate in research. How we accomplish this, without adding more work to a clinician's already full plate, is challenging. I am proud to say the ACR's RISE registry provides one such tool.
Jinoos Yazdany, MD, MPH, chair of the ACR's Committee on Registries and Health Information Technology (RHIT), and her committee colleagues have ensured RISE captures unique data that are allowing rheuma­tology professionals to rethink research, as well as patient care, for the better. RISE exists to capture as much critical data as possible, helping clinicians and more traditional researchers put those data into a meaningful context.
ADVERTISEMENT
SCROLL TO CONTINUE
Data with Context
The RISE registry is a Qualified Clinical Data Registry (QCDR) run by the ACR and led by the RHIT committee. RISE was initially conceived as a means to create a digital data network that allowed broad data sharing across rheumatology practices. A key early goal was also to make it easier for clinicians to participate in quality measurement programs required by the Centers for Medicare & Medicaid Services (CMS).
The RISE team works with practices across the country to connect their electronic health record (EHR) systems to the registry. When RISE users enter data into a patient's record within their EHR, these data are automatically extracted to the registry. The data then populates the user's RISE dashboard, showing their performance on metrics that indicate standard measures of quality.
RISE users can also see how their performance on these metrics compares with that of peers, as well as with national benchmarks published by the CMS. In doing so, RISE users can identify performance gaps and target their efforts strategically toward improvements in patient care.
ADVERTISEMENT
SCROLL TO CONTINUE
One of the foundational benefits of the RISE registry is its designation as a CMS-approved QCDR, … ensuring the ACR creates & maintains a portfolio of rheumatology-specific quality measures for reporting purposes. Thus, rheumatologists are not forced to report measures meant for primary care that are not as directly relevant to their practices.
You may have heard of the ACR's new RISE Practice Improvement Module. This new continuing medical education (CME) and maintenance of certification (MOC) activity within RISE is meant to provide a tool for clinicians to improve an aspect of their practice that is meaningful to them. In this module, RISE users choose a specific quality measure, create an improvement plan and implement changes for a 90-day period. Users are then asked to reflect on their progress. Thus, the data within RISE can lead to changes implemented to improve patient care.
One of the foundational benefits of the RISE registry is its designation as a CMS-approved QCDR. As a QCDR, RISE not only collects data from EHRs and uploads quality performance data on the dashboard for users to analyze, but it has also been instrumental in ensuring the ACR creates and maintains a portfolio of rheumatology-specific quality measures for reporting purposes. Thus, rheumatologists are not forced to report measures meant for primary care that are not as directly relevant to their practices. The ACR's methodologically rigorous, evidence-based clinical practice guidelines serve as the basis for many of these measures, so users are tracking patient care according to best practices.
Sharing quality measure data is another example of how clinicians contribute to research. When aggregated, these data allow the RISE team to identify opportunities for improving evidence-based practice and to study the health and quality of care for people with rheumatic disease, including identifying and addressing potential health disparities.
Traditional Research, New Opportunities
With data on more than 2.4 million patients from more than 1,000 providers within the registry, RISE is a data repository that represents the collective clinical observations of rheumatologists and is a unique source to advance research in rheumatic diseases.
Because RISE automatically extracts all EHR data, the registry captures information on all diseases seen by rheumatologists and rheumatology professionals, including rare disease diagnoses and therapies. Collecting data on these rare conditions allows for longitudinal studies and the future development of disease-specific quality measures.
For example, researchers have identified a very large cohort of more than 3,000 patients with sarcoidosis and characterized treatment patterns across rheumatology practices. This is one of the largest cohorts of patients with sarcoidosis ever assembled.
Recently, the CMS approved the ACR's request to obtain and link Medicare claims data with RISE. This has two benefits. First, it is helping us better understand the cost of care for patients with rheumatic diseases. For clinicians who are reporting MIPS, the weighting of the cost-of-care category is increasing each year (and is proposed to make up 30% of the overall score by 2022). Thus it is essential to understand the cost of caring for our patients and to identify how that varies among clinicians.
Second, it is expanding the RISE research data pool by marrying the robust data in both the clinical and claims datasets. For researchers, this means the possible analysis of a broader range of topics, including elements beyond what is typically captured in EHR systems, such as hospitalizations and drug fills.
RISE also holds potential in the growing field of precision medicine—the goal of which is to help tailor therapy options for each patient based on specific charac­teristics, allowing for empirically better choices for a given individual. Thus, the registry has the potential to serve as a strong foundation for the launch of a precision medicine initiative that will link to biospecimens and accelerate our understanding of distinct patient characteristics and successful therapies.
The RISE registry is placing researchers at the forefront of rheumatology investigations, shaping the field as we discover more about rheumatic diseases and identify better therapeutic strategies for our patients.
---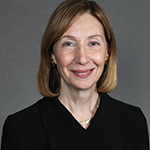 Ellen M. Gravallese, MD, is chief of the Division of Rheumatology, Inflammation and Immunity at Brigham and Women's Hospital, Harvard Medical School, Boston. She is the 83rd president of the ACR.