For people in whom symptoms of Lyme disease persist beyond the standard course of two to four weeks of antibiotic therapy, longer term antibiotic treatment provides no additional benefits beyond the shorter term course.
You Might Also Like
Explore This Issue
September 2016
Also By This Author
This is the conclusion of a recent study published in the New England Journal of Medicine that builds on a number of previously published randomized clinical trials that show no benefit of prolonged antibiotic treatment in patients with persistent symptoms attributed to Lyme disease.1
ADVERTISEMENT
SCROLL TO CONTINUE
"Like others that came before it, this study provides additional evidence that long-term antibiotic therapy is not associated with improvement in long-standing symptoms that follow a diagnosis of Lyme disease," says Michael T. Melia, MD, assistant professor of medicine at Johns Hopkins University School of Medicine, Baltimore.
The difference with this study is that it is the first randomized study to examine the effects of long-term antibiotic use for Lyme disease in Europe. Writing in an editorial that accompanied the study, Dr. Melia said that one of the interesting aspects of the study was that it was conducted in Europe, where a different type of Lyme disease (i.e., B. burgdorferi sensu lato, including B. afzelii and B. garinii) circulates compared with the U.S.2
ADVERTISEMENT
SCROLL TO CONTINUE
"The infections with these species can manifest differently than do infections from North American species, such as with a longer initial duration of illness," he stated in the editorial.2
In addition, according to lead author of the study, Bart Jan Kullberg, MD, PhD, professor of medicine and infectious diseases, Radboud University Medical Center, Nijmegen, The Netherlands, it is the largest randomized trial to date to look at this issue.
So what does the study show?
ADVERTISEMENT
SCROLL TO CONTINUE
PLEASE Study
The Persistent Lyme Empiric Antibiotic Study Europe (PLEASE) trial was undertaken to evaluate the efficacy of longer term antibiotic treatment for persistent symptoms of Lyme disease.1 Ongoing controversy remains over whether or not longer term antibiotic use is effective in this situation, and, subsequently, clinical practice varies in how patients are treated.
"Previous clinical trials have not shown convincingly that prolonged antibiotic treatment has beneficial effects in patients with persistent symptoms attributed to Lyme disease," says Dr. Kullberg. "Nonetheless, the debate about this issue has continued."
In the study, 280 patients with persistent symptoms of Lyme disease were randomized to a 12-week oral course of doxycycline (100 mg twice daily) (n=86), clarithromycin (500 mg twice daily) plus hydroxychloroquine (200 mg twice daily) (n=96) or placebo (n=98). Prior to randomization, all patients received open-label intravenous ceftriaxone (2,000 mg daily) for 14 days.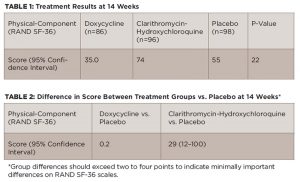 All patients included in the study had symptoms proved to be related to Lyme disease based on the temporal relationship to an erthema migrans rash or by assay-confirmed antibodies for B burgdorferi immunoglobulin G (IgG) or M (IgM). These symptoms included arthritis, arthralgia, cognitive disorders with or without persistent fatigue, dysesthesia, musculoskeletal pain, neuralgia, neuropsychological disorders and sensory disturbances.