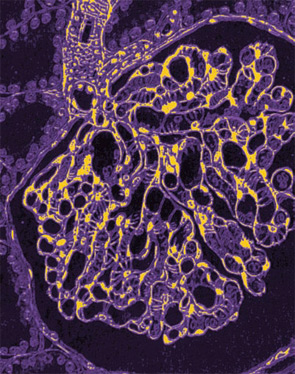 A team of rheumatologists, nephrologists, and pathologists is currently at work on the first-ever ACR guidelines for the screening, diagnosis, and treatment of lupus nephritis. The new guidelines are scheduled for publication this fall and will review modern studies that meet standards of high levels of evidence as well as expert opinion to make recommendations for use by rheumatologists in clinical practice.
Bevra Hahn, MD, chief of rheumatology at the University of California, Los Angeles School of Medicine and former President of ACR, is leading the guideline development committee. She says that the driving force behind the creation of these guidelines now is the recent publication of several high-quality clinical trials on the treatment of the disease, an indicator that it is time to make recommendations on treatment.
"These new guidelines are designed for the practicing physician so they will be concise and they will, as modern guidelines all do, make recommendations and indicate what the level of evidence is. The clinician reading it will be able to see which recommendations are backed by strong evidence, and which are backed by [expert] opinion," says Dr. Hahn.