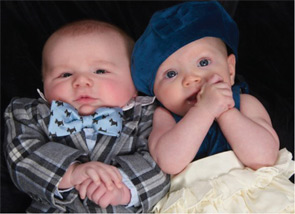 Dr. O'Dell's grandchildren Georgie (at right) and Aiden.
It is astonishing with how little reading a doctor can practice medicine, but it is not astonishing how badly he may do it.
—Sir William Osler, 1901
You Might Also Like
Explore This Issue
March 2012
Also By This Author
Last August, I became the proud grandfather to two amazing kids (see photograph at right). I have to admit, there really isn't anything better in life than having grandchildren, and after this year is over I hope to really enjoy them. When you experience it, you will understand what I'm talking about.
ADVERTISEMENT
SCROLL TO CONTINUE
On the other hand, I have never been less proud of the label "grandfather" than when it is associated with the American Board of Internal Medicine (ABIM) Maintenance of Certification (MOC) requirements.
I certainly am relieved to know that I will never need to recertify, but this feeling is shadowed by a deep sense of shame. As I have always told my kids, "never is a long time," and it is particularly true here where the consequences could result in less than optimal patient care. This point has been especially troubling to me because of my role as an internal medicine program director for the last quarter of a century.
ADVERTISEMENT
SCROLL TO CONTINUE
As a program director at the University of Nebraska Medical Center, I have been preaching education and preparation for the ABIM exam—I'm proud to say that our program leads the nation in pass rate—and teaching residents the important habits of lifelong learning, while I myself have been "above the law," so to speak. It seems unfair that the oldest among us are immune to this requirement because our certificates are dated earlier than 1990 or because we had enough political power to make sure we were immune when this requirement was passed.
Unfortunately, without a real commitment to lifelong learning, our skills and knowledge might quickly become out of date (as opposed to UpToDate). Osler's quote is many times truer today than it was a century ago. So, I decided to step up, confront my hypocrisy, and take advantage of all the wonderful recertification programs the ACR has to offer. I wanted to see if an old guy could walk in the shoes of the next generation and really do this!
My Recertification Experience
I have to admit that when I started this process, I was a little smug. I thought I was already up to date. After all, I teach both a board review and the ACR MOC course every year; write textbooks, papers, and guidelines; read at least some of our journals; and go to all the ACR meetings. However, I was humbled by the process in a very healthy way.