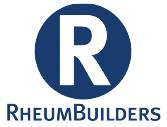 The Rheumatology Research Foundation is proud to announce the launch of RheumBuilders, a new community of monthly donors, and the relaunch of its Legacy Society, a community of donors who have included the Foundation in their wills or estate plans. These initiatives are designed to deepen the Foundation's commitment to rheumatology research and patient care, and increase engagement among rheumatology professionals, grateful patients and all individual stakeholders.
When the ACR founded the Foundation in 1985, few could have imagined the powerful impact and achievement that would take place in the span of just 35 years. The Foundation's beginnings were modest, awarding its first grant in 1991 and establishing an independent board of directors five years later. The Foundation launched its first campaign, Within Our Reach: Finding a Cure for Rheumatoid Arthritis (RA), in 2006, and went on to exceed its five-year, $30 million goal to fund RA research, setting the organization on a path for long-term growth and a national leadership role within the field of rheumatology.
Today, the Foundation is the largest private source of funding for rheumatology research and training in the U.S., having conferred nearly 4,000 awards totaling more than $192 million directly to these areas since 1985. Additionally, the Foundation is proud to hold the distinction of the Four-Star Charity designation from Charity Navigator, the highest rating possible from the nation's largest charity evaluator. The Foundation has held this distinction for 12 years in a row.
As the Foundation nears the successful completion of its third and most ambitious campaign to date, Leading Boldly: Transforming Rheumatology, attention now turns to the next 35 years and identifying more and better ways to improve the health of more than 54 million Americans living with rheumatic disease.
In service of the Foundation's mission to advance research and training to improve the health of patients living with rheumatic disease, you are invited to join RheumBuilders, the Foundation's new community of monthly donors. Monthly giving is an easy, affordable way to achieve a powerful, year-round impact, with donor benefits. A monthly gift of any amount qualifies you for membership in RheumBuilders, along with recognition in the Foundation's annual Donor Acknowledgments Book and regular stakeholder reports from Foundation leadership.
For more information about RheumBuilders, contact Ben Hammett Walkuski, director of individual engagement & philanthropy, at [email protected].
The Foundation also invites you to consider making an impact you never thought possible by joining the Legacy Society, a group of dedicated and generous individuals who make the Foundation part of their estate plans. Legacy Society members help build a sustainable future for rheumatology research and education, which can help improve the lives of millions as the Foundation seeks new knowledge, new treatments and greater access to care. Legacy Society members also become part of an elite group of donors with access to exclusive events and opportunities to network with like-minded individuals who are equally passionate about the impact of the Foundation, want to leave a lasting legacy and ensure a better future for patients and prospective rheumatologists for generations to come.
For more information about the Legacy Society, contact Paula Isley, regional philanthropy officer, Western region, at [email protected].
For more information about the Foundation, visit www.rheumresearch.org or email f[email protected].