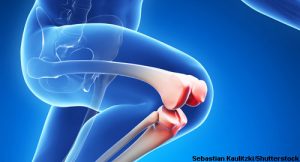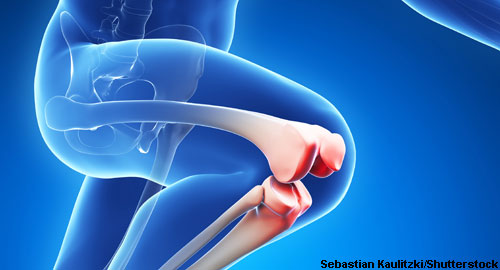 Approximately 14 million adults in the U.S. have knee osteoarthritis (OA), and many have concomitant meniscal tear. Patients can be treated with arthroscopic partial meniscectomy surgery or physical therapy. Preliminary evidence suggests that, in the short term, the outcomes are similar for both treatment approaches. Example: In 2013, a small, single-center clinical trial found that for patients with meniscal tears, arthroscopic partial meniscectomy with physical therapy and physical therapy alone were both associated with improvements in pain and function.1
You Might Also Like
Also By This Author
New research extends these findings and indicates that pain from meniscal tears improves considerably over the long term (60 months) in patients who receive operative management, as well as in those who receive non-operative management. The results suggest that both strategies are associated with generally favorable outcomes in middle-aged and older patients with knee pain, osteoarthritic changes and degenerative meniscal tear. Jeffrey N. Katz, MD, senior biostatistician in the Orthopedic and Arthritis Center for Outcomes Research at Brigham and Women's Hospital, Boston, and colleagues also found that patients who received arthroscopic partial meniscectomy were more likely than those who received only physical therapy to undergo total knee replacement. The investigators published their results online Aug. 20 in Arthritis & Rheumatology.2
ADVERTISEMENT
SCROLL TO CONTINUE
The researchers recruited patients with degenerative meniscal tear to participate in the Meniscal Tear in Osteoarthritis Research (MeTeOR) trial. The 351 patients had a mean age of 58 years old, mean body mass index of 30 and Knee Osteoarthritis and Injury Outcome Scale (KOOS) Pain scores of approximately 46. Patients were randomized to receive physical therapy or arthroscopic partial meniscectomy. In both study arms, patient pain scores improved substantially over the first three months, continued to improve through 24 months and were stable from Month 24 to Month 60.
"We were surprised to see that gains in pain and function made over the first year of intervention were maintained for so long," says Dr. Collins. When the investigators analyzed Western Ontario and McMaster Universities Osteoarthritis Index (WOMAC) function scores, they found they were similar to the KOOS Pain scores, showing substantial improvements in the first year for both groups.
ADVERTISEMENT
SCROLL TO CONTINUE
Over the first three months, the investigators found the KOOS Pain scores differed between the two groups. Patients randomized to arthroscopic partial meniscectomy experienced a decrease in KOOS Pain score of -7.4 points per month, while those randomized to physical therapy experienced a decrease in KOOS Pain score of -5.90 points/month. Perhaps because of this less robust decrease in pain, 68 of the 177 patients randomized to physical therapy crossed over to arthroscopic partial meniscectomy. The majority (79%) of these crossovers occurred in the first six months after randomization.
For those patients who did not cross over and remained in the physical therapy arm, the change in pain score became similar to those who received surgical intervention between three and 12 months. By 12 months, scores in all three of the as-treated groups were similar.
Some of the patients—9.2% of those randomized to arthroscopic partial meniscectomy and 5.1% of those randomized to physical therapy—underwent total knee replacement over the course of follow up. The participants who ultimately underwent total knee replacement started with the highest KOOS Pain scores and experienced the slowest improvement in pain over the first three months of the study. Although the investigators were unable to identify the cause of this difference, they did document a five-fold increased risk of total knee replacement among those exposed to arthroscopic partial meniscectomy as compared with those treated non-operatively.
ADVERTISEMENT
SCROLL TO CONTINUE
"Rheumatologists should be reassured by our findings that pain and function improved considerably for both strategies, with these improvements maintained over five years of follow up. Both strategies—early treatment with arthroscopic partial meniscectomy and physical therapy with the opportunity for delayed arthroscopic partial meniscectomy—are associated with generally favorable outcomes in middle-aged and older persons presenting with knee pain, osteoarthritic changes and degenerative meniscal tear," says Dr. Collins. "A note of caution is that those subjects undergoing surgery had a slightly increased risk of undergoing total knee replacement."
He suggests patients and clinicians discuss this risk when contemplating treatment for knee pain, meniscal tear and osteoarthritic changes.
---
Lara C. Pullen, PhD, is a medical writer based in the Chicago area.
References
Herrlin SV, Wange PO, Lapidus G, et al. Is arthroscopic surgery beneficial in treating non-traumatic, degenerative medial meniscal tears? A five-year follow up. Knee Surg Sports Traumatol Arthrosc. 2013 Feb;21(2):358–364.
JN Katz, E Losina, LA MacFarlane, et al. Five-year outcome of operative and non-operative management of meniscal tear in persons greater than 45 years old. Arthritis Rheumatol. 2019 Aug 20. [Epub ahead of print]