Rheumatology Informatics System for Effectiveness (RISE) Registry: RISE plus MIPS equals survival. The RISE Registry—a database developed and managed by the ACR and available to and free for all members—will be key to success in the MIPS pathway. The database is a robust tool for quality improvement reporting that pulls data on demographics, medications, lab data, disease activity, functional status and other metrics directly from your practice's EHR system. Importantly, RISE has been designated as a qualified clinical data registry (QCDR) by CMS, meaning that rheumatologists who wish to use RISE for MIPS quality reporting will be able to do so automatically.
Looking Ahead
Although we are excited about the role RISE can play in helping rheumatologists successfully navigate the MIPS track, it is also important to note that MIPS may not end up being the final CMS payment pathway. From what we know about CMS's current thinking, the agency seems to see MIPS as a temporary solution to ease the transition to the new value-based payment structure. We believe CMS will eventually phase out the MIPS pathway and transition all providers into APMs in the future. Because this could have significant implications for small private practices, the ACR will continue to actively engage with CMS on this issue and provide additional updates as we know more about the agency's long-term plans for physician reimbursement.
There is no doubt that MACRA alters the reimbursement landscape and presents important, ongoing decisions for practicing rheumatologists. However, I am confident the rheumatology community will adapt and prosper in the face of these changes and that the ACR will be there along the way with up-to-date information and support. Information will be our most important tool in getting ahead of the curve and succeeding in this rapidly changing environment. I encourage all members to grasp the opportunity to get their practice ready for changes coming down the pike, thinking strategically. And I encourage members to consider micro-volunteering opportunities especially in advocacy on these issues, in order to Advance Rheumatology!
---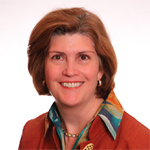 Joan M. Von Feldt, MD, MSEd, FACR, FACP, is the president of the ACR, professor of medicine at the Perelman School of Medicine at the University of Pennsylvania. She is also staff physician at the Philadelphia VA Medical Center.